Combating Corruption: CONSUPE To Step-up Efforts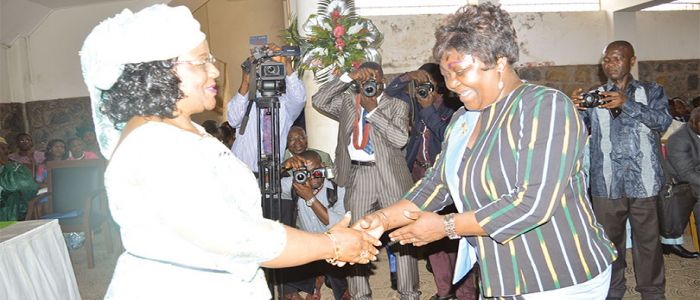 The institution's boss received New Year Wishes in Yaounde on January 20, 2017 during which she stated the commitment to improve public governance.
The Minister Delegate at the Presidency in charge of Supreme State Audit Office, Rose Mbah Acha Fomundam has stated the determination of her institution to improve on public governance and the management of State finances as well as the fight against corruption. She was speaking in Yaounde on Friday January 20, 2017 while receiving New Year Wishes from the staff. According to Mrs. Mbah Acha, her institution must be in the frontline of the fierce battle for improvement in the management of government finances and the fight against corruption. Cognizant of the fact that the scourge cannot be eradicated singlehandedly by CONSUPE alone, the Minister Delegate posited that her institution will forge actions with other bodies involved in the fight. "The year 2017 should offer an opportunity to revive and usher in an exemplary administration as desired by the President of the Republic", she stated.
While admonishing unprofessional behaviours that might compromise the image of the institution, the Minister Delegate insisted that their mission is exalting thus auditors should in no circumstances allow themselves to fall prey to embezzlers in spite financial inadequacies. She revealed that a number of CONSUPE's audit missions in the year just ended enabled the State treasury to recover resources citing amongst others FCFA 5 billion recovered from Road Revenue Enhancement Programme, FCFA 4 billion from SONARA, FCFA 6 billion from Credit Foncier amongst others. Some retired staff as well as some active personnel of the structure were recognised with gifts and State distinctions respectively.
Same category