Performing Arts: Because He Was Caught – Quite - Young!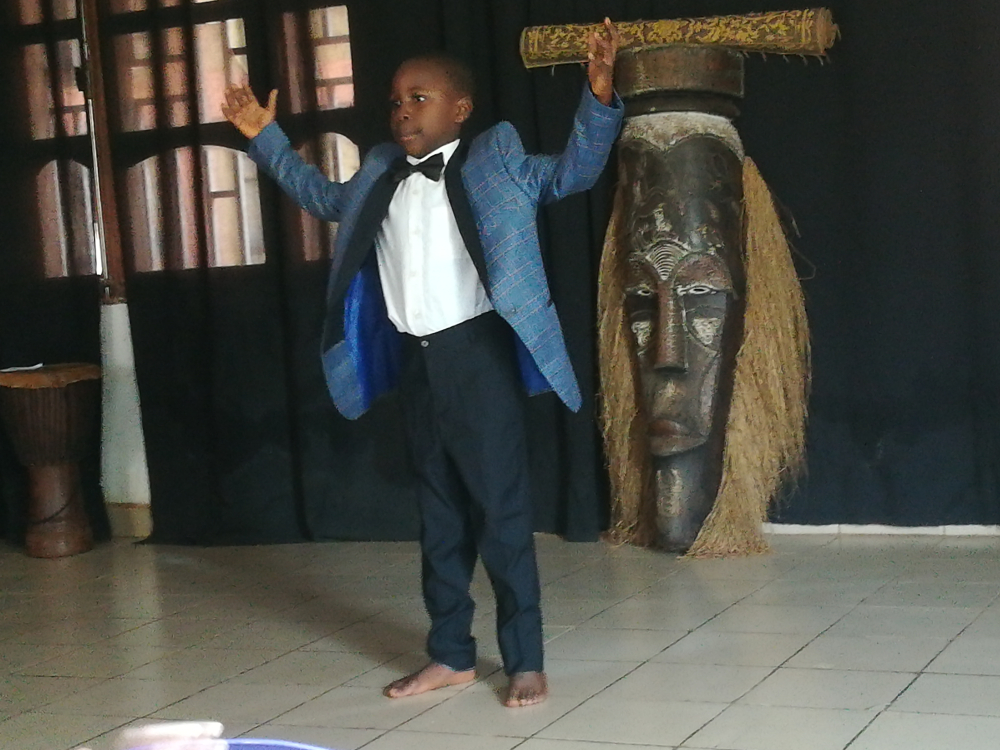 Seven-year-old Jacques Bilong on Saturday, June 25, 2022 offered a storytelling and proverb recital command performance in Yaounde.
Young and mature people alike were on June 25, 2022 in Centre Zingui Theatre, Ekoumdoum, Yaounde, treated to a potpourri performance of Cameroonian folktales and proverbs. Done by seven-year-old pupil, Jacques Bilong, the performance followed three years of intensive training under the able hands of veteran actress, Rosine Nguele. Jacques was joined in the performance by the older sister, Marie Ange Bilong,
All Encompassing Training
"I feel so happy. I love performing arts; not because my father requested it. I hope to become a great arts professional in future," said Jacques, a Class Two pupil of Honoris Causa Primary School, Ahala, Barriere, Yaounde at the end of the performance. "We had training sessions twice a week – on Wednesdays and Saturdays - for three years! We handled everything to do with theatre – storytelling, poetry, proverbs, singing… After which we will develop a particular area for him," Rosine Nguele explained.
It Started Like Fun!
"I am impressed with what Jacques Bilong is already able to do! For a child of 7, he is able to play the monkey, leopard….. Which some adults are unable to do. Storytelling is the most difficult performing arts genre because it is monologue. You play different personae and later perform it before an audience. It was my first time to work with a child this young. We began like a joke, memorizing proverbs for fun," Rosine recalled.
Right Diagnosis, Appropriate Therapy
"The doctor recommended Jacques for an oral art and the family was directed to the Cameroon Cultural Centre, Yaounde where I was Director of National Theatre at the time. The training has healed Jacques! He no longer has speaking difficulties. The doctor did good diagnosis, which has yielded the desired results. Theatre is first a therapy before being an intellectual game. I train children living with autism using theatre. After a year, there is a huge difference in their ability," Rosine revealed.
Set For Great Heights
"If Jacques continues to work hard, at 10, he will threaten the older hands! He loves what he is doing and often brings up innovative suggestions on improving his performance. I am so happy with the parents. They have taken the pains to inculcate African culture in their child. Oftentimes, our children learn others' cultures in school. But at his age, Jacques already knows what a proverb is. Unlike in the past when it was reserved for a certain class of people," Rosine p...
Same category