2022 CGCE Session : Serenity Reigns As 182,256 Candidates Write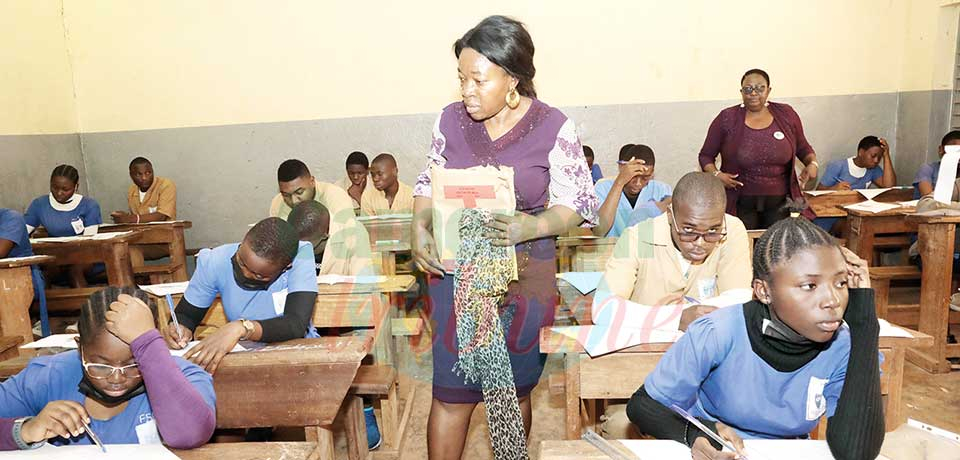 Taking place in all the ten regions of the country, the written session will end on July 14, 2022.
Candidates of the 2022 examinations organised by the Cameroon General Certificate of Education, the GCE Board are currently undertaking the written session of the examinations nationwide, in all serenity. The GCE Advanced Level, GCE Ordinary Level, the Technical and Vocational Education Intermediate Level and Advanced Level (TVEE) which began yesterday June 28, 2022 will end on July 14, 2022 in all the ten regions of the country. In total, there are 182,256 candidates sitting these examinations as compared to 170,492 last year. This gives an increase of 11,764 candidates.
Students sitting in for the GCE Ordinary Level (O Level) began the examination with Economics Paper One, while those in the Advanced Level (A Level) began with the Geology Paper One. Those writing the TVEE Intermediate an Advanced began with different subjects according to their speciality. At the Anglo-Saxon General/Technical Groups of School in Yaounde, which is examination centre code 22277, some 334 candidates are writing TVEE Immediate and Advanced Levels examinations. At 10:00 a.m., when Cameroon Tribune team arrived at the school premises, some candidates had completed the morning session of the examinations and were loitering around, waiting for the afternoon session. The Principal and Chief of the Examination Centre, Enow Ako Sammy said the examination is taking place in all serenity. Some eight examination halls are hosting candidates. One or two candidates occupy a desk. According to Enow Ako Sammy, this depends on the length of the desk.
At the Government Bilingual High School Etoug-Ebe in Yaounde, some 2,837 candidates are undertaking the GCE Advanced and Ordinary Levels. Besides candidates from the school, the institution is hosting candidates from eight other centres. According to the Chief Superintendent from th...
Same category