Cameroon-Italy Relations : Focus On Intensifying Economic Cooperation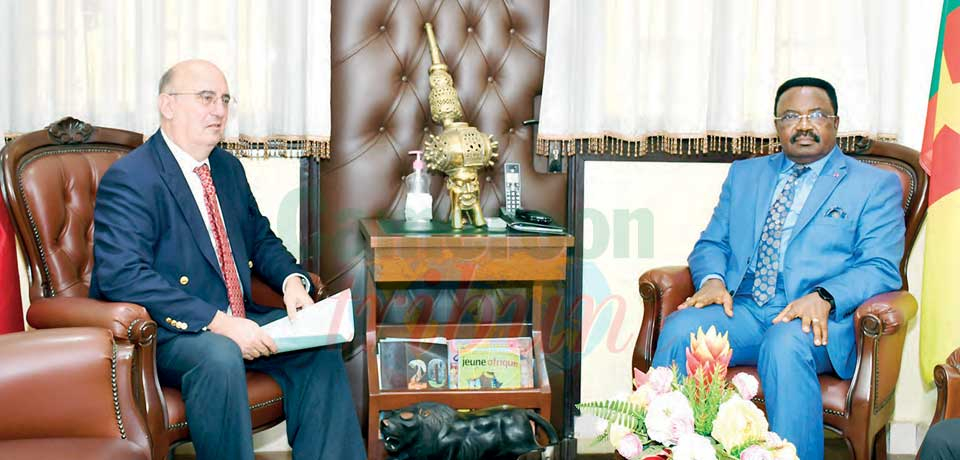 Minister Felix Mbayu received in audience the Italian Ambassador to Cameroon, Filippo Scammacca Del Murgo on June 30, 2022.
Expanding bilateral cooperation between Cameroon and Italy were on June 30, 2022 discussed at the Ministry of External Relations. This was during an audience the Minister Delegate to the Minister of External Relations in charge of Cooperation with the Commonwealth, Felix Mbayu granted to the Italian Ambassador to Cameroon, Filippo Scammacca Del Murgo. In the course of the over one-hour audience, both personalities reviewed cooperation ties with focus on intensifying collaboration in the economic sector.
In his declaration to the press, the Italian Ambassador said investment partnerships, especially as concerns Italian enterprises executing State projects/contracts in Cameroon came under review. Improving human capital and experience sharing with the aim of improving economic activities in the private sector, the Ambassador added, was discussed with Minister Mbayu. Filippo Scammacca Del Murgo added that they held talks on intensifying economic cooperation in the domains of renewable energy, infrastructure and utilizing the potentials of Cameroon in agriculture (cocoa) and construction. As concerns security, the Italian Ambassador added that based on existing cooperation, some Cameroonian police officers will undergo a training in Italy in the months of August and September this year.
Cameroon and Italy a...
Same category