Commonwealth, Islamic Games : State Blessings For Team Cameroon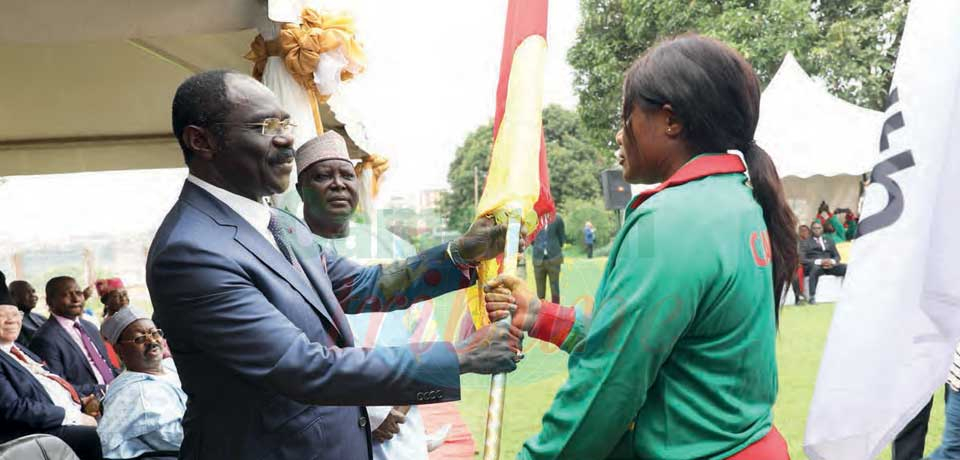 The Minister of Sports and Physical Education, Narcisse Mouelle Kombi chaired the Flag Handing ceremony of both competitions yesterday July 20, 2022 in Yaounde.

The two delegations to represent Cameroon at the 2022 Commonwealth Games in Birmingham, England and the 2021 Islamic Solidarity Games in Konya, Turkey, have officially received farewell blessings from the nation. This was during the flag handing over ceremony chaired by the Minister of Sports and Physical Education, Narcisse Mouelle Kombi, personal representative of the Head of State, on July 20, 2022 at the headquarters of the Cameroon National Olympic and Sports Committee (CNOSC) in Yaounde.
"I reiterate to you the wishes of success of the President of the Republic, the Government of the Republic and the Minister of Sports and Physical Education during the 2022 Commonwealth Games and the 2021 Islamic Solidarity Games," Minister Mouelle Kombi said. He urged the athletes to show proof of fighting spirit and honourably give back to the country the honour it deserves".
Just like the Minister, the President of CNOSC who doubles as the President of the Cameroon Commonwealth Games Association, Hamad Kalkaba Malboum, in his welcome address, urged the athletes to give in their best sportingly and ethically to further promote Cameroon's image and bring home the maximum number of medals. He equally enjoined the athletes to be disciplined and encourage fair play.
After the speech making part of the ceremony, the Minister solemnly handed over the flag to the flagbearers of both games. As for the Commonwealth Games, Emmanuel Eseme (athletics) and Sophina Arrey Ntui Ayuk (Judo) are the flagbearers. Meanwhile, Awal Ahmed, Captain of the Cameroon National Volleyball team is the flagbearer of Team Cameroon at the Islamic Solidarity Games. The calm and concent...
Same category