Improving Private Performance: Support Mechanism Announced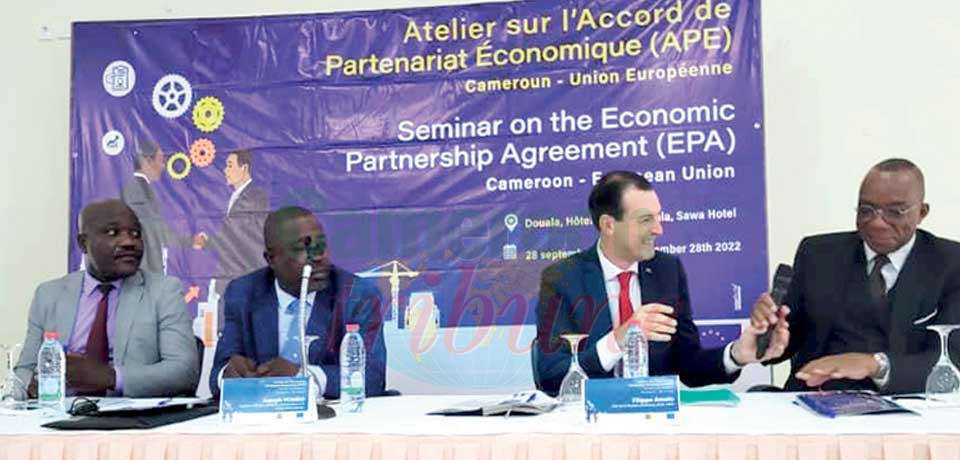 This was during an EU seminar with the business community in Douala on September 28, 2022.
Business people in Douala and Cameroon at large will in the days ahead begin benefitting from the spin offs of the Economic Partnership Agreement (EPA) that went into force in 2014. This follows a oneday workshop organised by the European Union to avail themselves of the opportunities available for Cameroonian businesses in Europe. The EPA was put in place to stimulate long-term economic development and contribute to poverty reduction. The EPA also offers Cameroonian producers entirely free access to the European market, while safeguarding and encouraging Cameroon's domestic production. It helps to create the right conditions to attract more investment and support industrialisation and job creation in Cameroon.
While opening the one-day seminar on Wednesday 28 September in Douala, the representative of the Minister of the Economy, Planning and Regional Development, Joseph Yombo Bodiong, disclosed that most economic operators in Cameroon do not master the rules of origin and they also lack knowledge on how to access the European market in terms of standards and norms as such the seminar enabled them to learn how to upgrade their products, so as to meet up with the demands of the European market. He said the customs experts gave more details on the rules of origin and the experts from the EU also shared knowledge on their norms and standards. He added that MINEPAT is readily available to enable the economic operators get the best out of the deal. Accordi...
Same category