Nigeria National Day : Celebrating Freedom and Sovereignty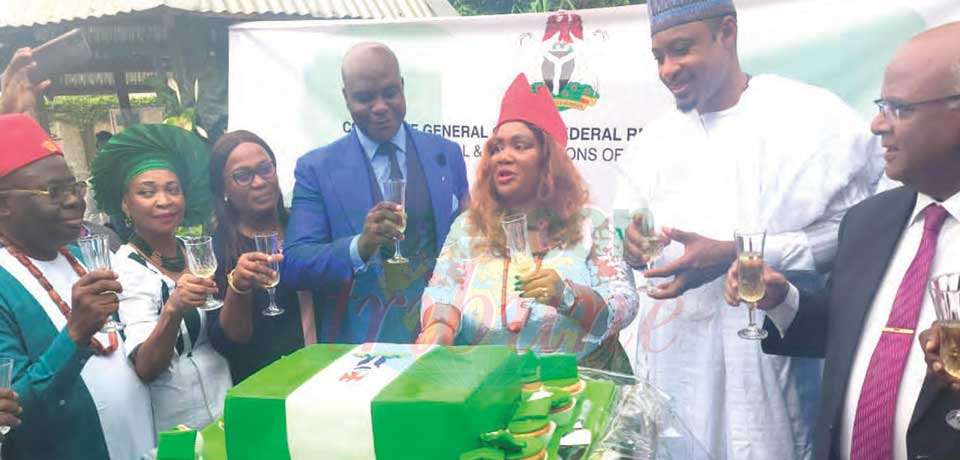 Nigerian Community in Douala joined their counterpart worldwide to celebrate 62 years of independence on October 1.
It was a moment of joy and celebration at the Consulate General of the Federal Republic of Nigeria in Douala as the Nigerian community converge to celebrate their National Day on October 1, 2022. After gaining independence from Britain in 1960, the Nigerian Government has remained resilient and steadfast despite the hurdle and challenges, reasons why every October 1st is a moment of celebration.
In her keynote address, the Nigeria consular general for the littoral and west regions Her Royal Highness Queen Efe Alexandra Clark-Omeru said it was a day to celebrate Nigerian heroes and those who fought for the independence of Nigeria. She said despite secessionist threats and other threats that have threatened the peace of Nigeria, the government has remained strong and resilient. Under the leadership of President Muhammadu Buhari, the consular general went on, the Nigerian government has been able to overcome many challenges. She thanked the Cameroon Government for being a true partner and friend. She said Cameroon has been a true partner in the fight against the insurgencies of Boko Haram and more. She called on the Nigerian business community to invest in Cameroon and vice versa. She did not mince words when she called on Nigerians to be of good conduct while respecting the laws of Cameroon.
The President of the Nigerian Union- Douala, Hon...
Same category