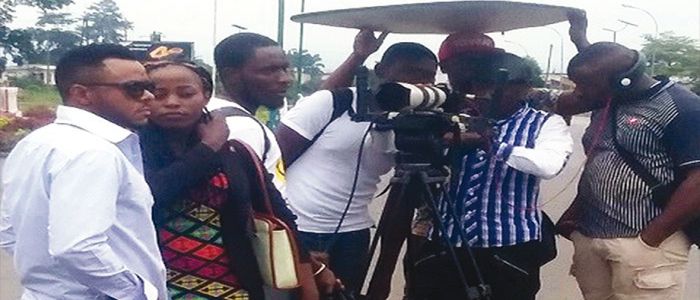 The 2016 film, Life. Point, in competition at the FESPACO Film Festival, was projected at the Burkina Cine last Monday.
Suspense gripped the audience at the Burkina Cine Hall last Monday evening February 27, 2017 for over 90 minutes as they witnessed how emotions transpired between a French speaking retired university professor (Mballa Etoa Jacob) and a charming Central African refugee (Sa'adatu), a girl young enough to be her daughter. That feeling of love between Mballa Jacob and Sa'adatu turned out to be a true love story between Sa'adatu and Mballa Jacob's son, Bernard. True love is that main message the film producer, Bassek Ba Kobhio and director, Achille Brice, tries to bring out in the lone Cameroonian film; Life. Point, which is competing in the long feature films category at the 25th edition of the Pan-African Television and Film Festival (FESPACO) of Ouagadougou, Burkina Faso.
The audience, in an attentive manner watched how Mballa Etoa Jacob's entire world began to crumble over the dead of his beloved wife, victim of a stroke following the troubles their son Bernard has long caused them. When she passes on, he no longer has a reason to live in spite the existence of his two children. Because he has lost a taste for life, Mballa Etoa embarks on a mission to take his own life. But his suicide mission is suspended when he meets Sa'adatu, who is not just a refugee but a dance teacher. Sa'adatu gives him a new insight into life. They both enjoyed a meaningful distraction period which was short lived as reality catches up with them when Mballa Etoa Jacob's son, Bernard, later enters the scene and did everything to make sure he separates his father from the prostitute he called Sa'adatu.
However, Sa'adatu realises that it was more of pity she felt for Mballa Jacob. Her love for Mballa Jacob's son grew and it became evident that she had a softer spot for him. As Bernard and Sa'adatu began manifesting what they felt for each other, Mballa Jacob decided to take his own life in a bid to spend eternal life with his beloved wife while his son, who was suffering from a broken marriage spend quality time with Sa'adatu.
At the end of the film, reactions from the audience revealed that the suspense technique used by the film director was worthwhile as continuity enabled viewers to grasp the message behind the film, Life.Point. "The applause from the audience says it all", Achille Brice noted. The script writer, who is also a Co-producer, Nkanya Nkwai says he was out to tell the world that love which has no boundary, can start from nowhere and end somewhere.

Achille Brice: "I Am Confident, I Have An Amazing Film"
Director of the Film, Life.Point
What were you trying to achieve by directing Life.Point?
When the script was brought to me by one of the producers, Nkanya Nkwai, I took and went over it. I laughed after going through the script because it was interesting. Honestly, the film is completely out of the type of movies I will ever think of doing because I love movies that have actions. But this movie is very low keyed and it opened me to many other perspectives that I could invest into as a film director. The film brought me out of my comfort zone and being an interesting story, I really wanted to tell it my own way. The producers actually gave me the opportunity to tell the story my own way. I am 100 per cent confident with what I have done and it is time for the audience to appreciate it their own way.
How do you feel, after the projection of your film at the FESPACO festival?
I feel complete. The easiest part is to make the film. But the hardest is what people think about it. I feel happy about how the audience reacted after watching the film. It might not be the best but it is the door way to something. At the beginning of the film, I felt it was too philosophical and that people might not understand the story line. But at the end I was impressed with the way the audience perceived the story. I am indeed amazed.
Do you hope to win a trophy at the end of the festival?
Being my first feature film and having the opportunity to appear on such a platform on African cinema and also being amongst those top big African film makers, I feel honored. It is a competition and also a platform to showcase our movies and potentials. But at the end of the day, wining a trophy or not basically does not change the backbone of the story. All I wish is to expose the culture of my country Cameroon, through the film and also tell our own part of stories through films as well as share in the film making community. All I wish is that at end, people embrace our movie. FESPACO is a big platform and if something positive comes out of it, good. I do not think my film is better placed because every movie is unique in its own way depending on how it is directed. But honestly, I am confident in the kind of work I have done and looking at it critically, a jury can fall for it or say maybe the movie is far from what they are expecting. I am happy being at the FESPACO festival. I am happy and confident that I have an amazing film. But at the end, I will say let the best win.
Bassek Ba Kobhio: "Life.Point Was A Very Good Experience"
Producer of the film Life.Point
After watching the projection of your film at the Burkina Cine hall, how do you feel?
After producing a film like this, it means one has certainly watched it over ten times and knows where there are lapses. At times one is just sorry because he/she will want to redo the film to make it better where there are loopholes. But in this case, I am very happy with what I have produced. It is not a popular film. But it is those types of film were you need to watch to the end to be able to understand the message. If one watches the film half way, he or she will think it is a story about an old man who is in love with a young girl. This is far from the truth and the story line is very complicated. But I think, watching the projection of the film, there are some areas one could have made better. However, I am happy with the general presentation of the film.
If you are told to redo Life.Point, what will you adjust?
I cannot immediately say what I can adjust in the film. But all I know is that if I have the opportunity to redo the film, I will certainly make it better. With the many good actors and actresses we have in Cameroon and the handful of directors and script writers, I think, much good stuff is still to be done in the film industry in Cameroon.
Are you confident in wining a trophy at the end of the competition?
While in a competition, one can never be sure to win. I need to watch other films to be able to evaluate the chances of my film to win a trophy in the competition. However, the director of the film is the youngest film director in the competition in his category which is the highest. He was born on April 9, 1984 in Buea. He is young and will go far. I am ready to produce many more of his films with Nkwanya Nkwai as script writer and the many talented film actors and actresses in all the nooks and crannies in the country. We have to break the wall between what we call English speaking actors and French speaking actors. With Gerald Essomba featuring in Life.Point, I think it was a very good experience in breaking that wall between Francophone and Anglophone actors and actresses.
What message are you trying to pass across in producing such a film?
I do not have a particular message but I think that from the film Life.Point, that barrier between Anglophone and Francophone is out of place. I produce many young Anglophone film writers and they are working hard. At the moment, I have more than three scripts from young Anglophone writers that I am preparing to produce. One message in the film is that we have one Cameroon that is why in the film, a retired university French professor will prefer to spend his time in Buea, instead of going back to his village in Yaounde as his children wanted.


Same category