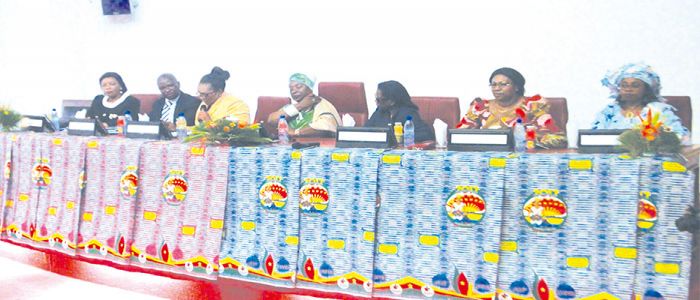 Activities to mark the 32nd edition of the International Women's Day in the institution took place on Thursday March 2, 2017
Female workers at the Prime Minister's office have been challenged to be at the vanguard of the implementation of the bilingualism policy in the country.
Special Adviser of the Prime Minister's Office, Bertha Ndoh, made the call on Wednesday March 1, 2017 during a workshop to launch week-long activities to mark the 32nd edition of the International Women's Day in the State institution.
Opening the seminar Bertha Ndoh said bilingualism is a current burning issue in the country and women of the PM's Office do not want to be left out. She explained that at the helm of the implementation of government policy of bilingualism, much is expected of them as they accompany the Head of Government.
The women listened to presentations from facilitators from the Yaounde Bilingual Pilot Centre who emphasised on the role of the bilingual woman in an ever changing work space.
The women explored the competences that female leaders need to make an impact in the changing arena of the public service as they aspire for a 50/50 equation by 2030.
The advantages of bilingualism are ever more fundamental than being able to converse with a wider range of people. The seminar was intended to spur the women into action, and to remove speed brakes. Instituted since reunification, the important tools to make it effective have been the constitution, Presidential Decrees and recent creation of the Committee on Bilingualism and Multiculturalism as well as the Prime ministerial instructions and circulars and reminders calling for systematic translation of all texts. The practice has not yet been as effective as originally intended.

Same category