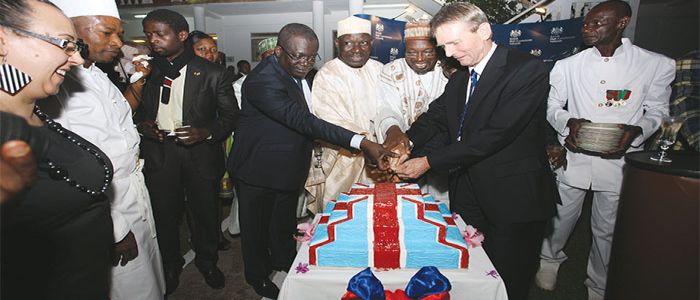 President Paul Biya and the British High Commissioner to Cameroon, Brian Olley further discussed ways of fostering the cooperation on March 7, 2017.
Cooperation ties between Cameroon and the United Kingdom have been growing from strength to strength with another giant cornerstone in consolidating the relations laid on March 7, 2017 during talks between President Paul Biya and the British High Commissioner to Cameroon, Brian Olley. This was during an audience President Biya granted the British diplomat at the Unity Palace.
Besides the historical ties between the countries with Cameroon being the League of Nations mandated territory under Great Britain and the United Nations trust territory still under the British control, cooperation ties between the two countries have evolved in diverse domains. By virtue of the historical ties, Cameroon become a member of the Commonwealth whose leader is the Queen of England on November 1, 1995. Cameroon is organising a series of activities leading up to the Commonwealth Day 2017 on Monday, March 13, 2017. The country had has benefitted enormously from the Commonwealth.
For more coordination, there exist the UK-Cameroon Joint Commission. The British Foreign Office Minister for Africa, Mark Simmonds described the Joint Commission as having "provided a historic opportunity for us to strengthen our close relationship with the Republic of Cameroon. We held productive discussions on a number of areas including deepening bilateral commercial links, mutual political interests and migration," The British government is also interested in the low-cost housing ambition the Cameroon government is pursuing. During an audience President Paul Biya granted High Commissioner Brian Olley on November 17, 2016, it was announced that the British firm NMS Infrastructure was ready to construct 5,300 low-cost housing facility in Douala. Prime Minister Philemon Yang led a delegation to the United Kingdom in 2014 for a conference on investing in Cameroon with the aim of attracting British business persons to invest in Cameroon.
Same category