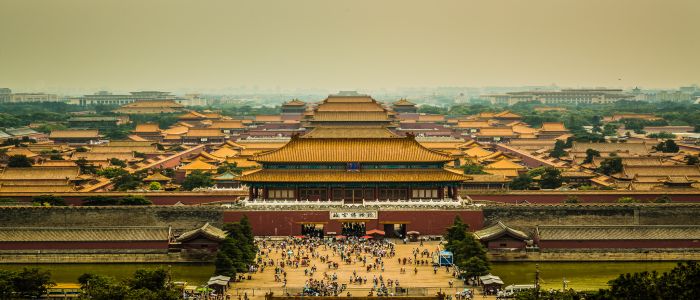 The former palace that housed 24 Chinese Emperors is today one of the world's most famous tourist destinations.
Formerly known as the "Forbidden City," the sprawling residence of China's former Emperors located in the centre of the country's capital, Beijing, is now called the Palace Museum (or Gu Gong in Chinese.) The name "Forbidden City" was given because 600 years ago, the palace was prohibited to common people. About 10,000 people lived there – including eunuchs, concubines and other servants. Each Emperor kept 72 carefully selected concubines, in addition to their one wife.
Having been the imperial palace for five centuries, the residence today houses over a million rare treasures and curiosities on 5,000 years of Chinese civilisation and 600 years of the reign of the Emperors. Listed by UNESCO as a World Cultural Heritage Site in 1987, the Palace Museum is now one of the most popular tourist attractions world-wide. In all, 24 Emperors reigned from there until the powerful monarchy was overthrown in 1924.
Construction of the palace was completed in 1420 after 14 years. It is located north of the famous Tienanmen Square. Rectangular in shape, it is the world's largest palace complex and covers 72 hectares. Today, an average of 80,000 local and foreign tourists visit the site every day, with the annual figure standing at 14.6 million visitors. All tourists pay 40 Yuan (about 3,500 FCFA) each in Winter and 60 Yuan (about 5,300 FCFA) in Spring to enter the vast compound. Some 600 years ago, 300 top scholars from all over China came to the palace each year to sit the most prestigious public examination.
Surrounded by a 52-metre wide moat and a 10-metre high wall, the compound boasts 980 buildings – with several gates. The buildings remain as they were hundreds of years ago, save for occasional painting. The red palace perimetre wall has an 8.6-metre thick base that reduces to 6.66 metres at the top. The bricks were made of white lime and glutinous rice, while the cement was made of glutinous rice and egg whites. The incredible combination of construction material makes the wall extraordinarily strong.
Same category