North West CPDM: Current Issues Feature in Meeting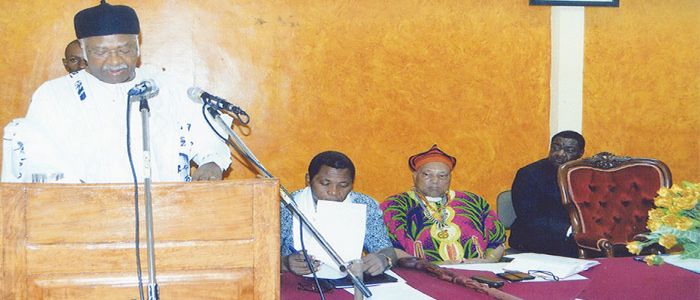 The 32rd anniversary preparatory meeting educated CPDM militants on government's actions to handle the anglophone crisis.
The event in Bamenda on March 19, 2017 was a preparatory meeting ahead of the 32rd anniversary of the Cameroon People's Democratic Movement (CPDM) presided at by the North West CPDM Permanent team leader, Prime Minister Philemon Yang.
The agenda featured the instructions from the Secretary General of the Central Committee of the CPDM, Jean Nkuete, the position of the party on the anglophone crisis and updates about government actions to seek solutions to concerns raised by teachers' and lawyer's trade unions. It was against this background that Prime Minister Yang Philemon educated CPDM Section Presidents and Divisional permanent delegation members on the justice system in Cameroon. Inspired by questions on why people arrested during the anglophone crisis are detained and tried elsewhere in Yaounde and appeals for their unconditional release, the Prime Minister said that it is all about letting specialists on the subject to interrogate and get the real criminals punished while those not guilty are freed.
The Prime Minister took time off to lecture, educate and clarify on issues that have been recurrent during the anglophone crisis like strike action, separation, federalism and the unitary State. It was all about definitions and explanations with Philemon Yang concluding that Cameroon adopted the decentralised unitary form of State because it is more complete for governance and the good things of the past forms of State. He urged the population to have confidence in the nation's justice system, appealed against myths that spread fear and prevent the resumption of schools. The Prime Minister said government will never forget the development of the region and that it only requires courage and patience for good things to happen.
The Chairman of the Ad Hoc Committee on education concerns, Professor Ghogomu Paul Mingo equally empowered CPDM Section Presidents with actions taken by the government towards solving the trade unions' problems.
Same category