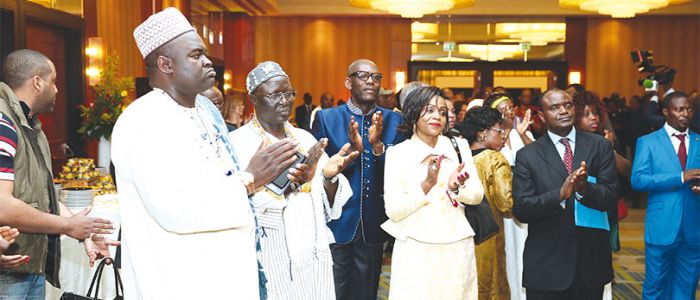 Minister of Higher Education, Jacques Fame Ndongo, represented the President of the Republic at a get-together with Cameroonians living in Italy.
It was not an affair for militants of the Cameroon People's Democratic Movement (CPDM) party as many people had imagined when they heard about a meeting between Cameroon's Presidential Couple and Cameroonians living in Italy. It was a veritable platform made for President Paul Biya not only to commune with his compatriots but also to update them about recent happenings at home. Scheduled on the second day of his official visit to Italy, President Paul Biya, on Tuesday March 21, 2017, sent the Minister of Higher Education, Jacques Fame Ndongo with a message of hope, peace, unity and solidarity to all Cameroonians living in the Italy, while urging them to remain exemplary citizens, not only in Italy but the world at large.
The event brought together Cameroonians from all walks of life living in the Republic of Italy. Through Fame Ndongo, President Paul Biya told his compatriots "although physically I am not present, I want you to know that with all my heart, I am with you all. I congratulate all of you for your dynamism and exemplary behaviour in Italy. I am aware that the Cameroonian community in Italy, which is made up of students, workers and business people, is a community which brings honour to their fatherland and contributes remarkably to its progress. Continue in this light." The Minister of Higher Education assured the audience about happenings in the country especially what they read from social networks. He reiterated that democracy is evolving in an exemplary manner in Cameroon. He also assured them that Cameroon is still a unified and harmonious country in which there is perfect coexistence of all ethnic and religious groups.
Talking about the Boko Haram war, Jacques Fame Ndongo said the government has put in place all measures to ensure stability and security in the Northern part of the country. About what is known today as the Anglophone crisis; Minister Fame Ndongo explained that after meetings and frank talk with the parties involved, their requests were fundamentally examined. But sadly, he underlined that certain protagonists instead have certain demands (federalism or secession). According to the Head of State's representative, there is no issue of bringing the constitution under questioning for Cameroon remains one and inseparable. Besides the holding of the National Forum on Education this year, which brings lots of hope for the education community, Prof. Fame Ndongo said dialogue and concertation with all stakeholders to achieve realistic and progressive results will continue. It was also revealed that the country's economy is doing well with many structural projects going on.
Earlier on, Cameroon's Ambassador to Italy, Dominique Awono Essama, took to the rostrum to welcome Cameroon's big family in Italy and to appreciate the President of the Republic for organising such a convivial moment with a group of diversified people from all the ten regions in Cameroon who had grouped themselves in over 10 socio-cultural, religious and professional groups. The president of the Cameroon's Diaspora in Lazio, Sandrine Ottou Temgoua assured the President's representative that they are ready to take Cameroon to an emerging country.

Same category