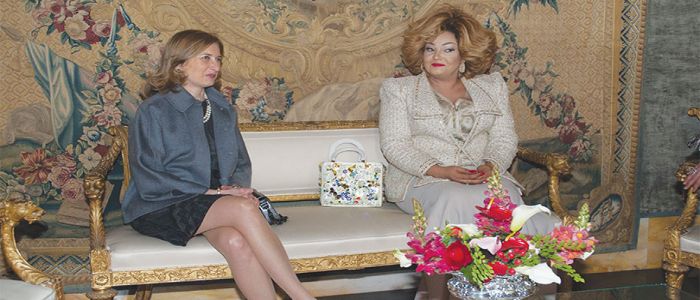 During her visit in Italy, she spent time promoting culture, valorising contacts and advocating continuity in goodwill
The Presidential Couple of Cameroon, Paul and Chantal Biya, have just rounded off a State visit to Italy. For many years, both countries have enjoyed close ties, with interactivity in many sectors of life. This visit provided the opportunity to strengthen bilateral ties and open avenues for new cooperation, particularly for First Lady, Mrs. Chantal Biya.
The First Lady's stay at the Italian peninsula began with a one-hour visit to the Presidency of Italy, called the Palacio Quirinale, where she was warmly received by Ms. Laura Mattarella, daughter of the Italian Head of State and acting First Lady of Italy. This guided tour was an occasion for Mrs. Biya to get immersed in the abundance of Italy's cultural diversity and the highlights of its rich history. It is worth noting that the Palacio Quirinale, which doubles as a historical and cultural public museum, is home to the Presidents of Italy, since 1947.
Next on the agenda was her visit to the Università degli Studi di Roma Tor Vergata, where her husband, President Paul Biya, was awarded a Gold Medal for his enormous work in the advancement of higher education in Cameroon, by the institution's president, Pr. Giuseppe Novelli. Tor Vergata, like the Higher Institute of Health in Rome, and the National Institute of Infectious Diseases–Spallanzani, are partner institutions of the Chantal Biya International Reference Centre for Research on HIV/AIDS Prevention and Management (CIRCB). It has consistently been the source of prominent fellows in the domain of scientific research for the CIRCB, such as Pr. Vittorio Colizzi and Dr. Giulia Cappelli. Thanks to this partnership with Roman institutions of higher learning, the Government of Italy is today a major financial and technical sponsor of the research programmes going on at the CIRCB.
Same category