Bamenda: Supporters Cautioned Against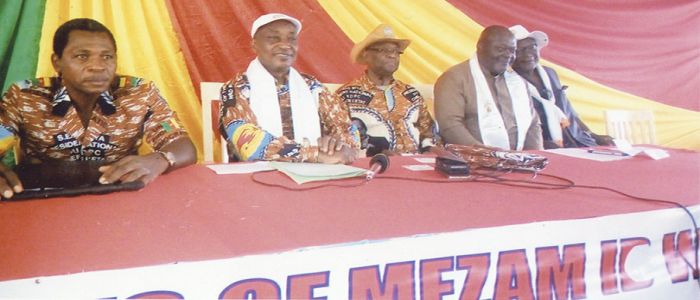 The militants braved the ghost town and threats to celebrate the 32rd anniversary of the party
Celebrations marking the 32rd anniversary of the Cameroon People's Democratic Movement (CPDM) in Bamenda could have been better but for the ghost town call that took taxis off the streets. Threats and calls for the boycott of the event by unidentified people did not help matters.
Come what may, some CPDM supporter beat fear and filed out for the celebrations. In effect, the Mezam CPDM Central Committee Permanent Delegation team leader, Minister Paul Atanga Nji cri-crossed the three Sections of Mezam 1A, 1B and 1C with the message of encouragement. He praised and urged them to avoid distractions that could make Mezam lose gains achieved so far for the CPDM. He also advised CPDM followers to be on the right side of history by avoiding evil activities that will haunt them for life. It emerged from his presentation that the CPDM is a party that inspires hope and said followers should not be deceived by what he described as illusions spread by opponents. The CPDM team leader had warm words for the administration of the region for efforts to keep peace in the face of the crisis rocking the North West and South West Regions.
Speakers in the different Sections appealed for supporter to stand by party Chairman, President Paul Biya to consolidate national integration, social peace and sustainable economic performance.

Same category