FENASSCO "A" Games 2017: Buea To Host Event Next April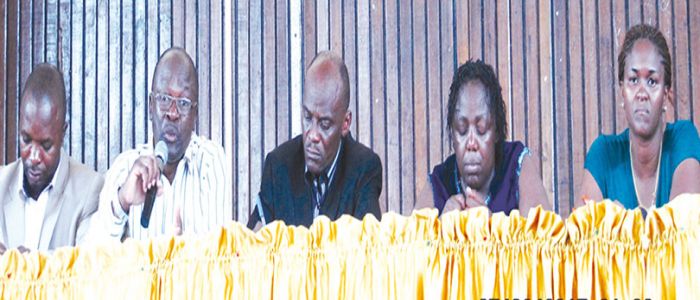 Officials of Sports, the Federation and the Ministry of Secondary Education were recently in the South West capital to announce the sporting rendez-vous
The 2017 National School Games under the FENASSCO "A" Federation will take place in Buea, South West Regional capital, from 1st through 8th April, 2017. The games in its 19th edition will involve students of Teacher Training Colleges of General and Technical Education as well as Secondary and High Schools. This year's participation theme has been adopted to be "School games and the fight against moral decadence"
The announcement was made in Buea recently during a press conference organised in the auditorium of the Bilingual Grammar School Molyko by the Federation's President, Mandeng Samuel, flanked by Ikoula Luc Ernest of the Ministry of Secondary Education. Draws for the four-team sports were made including football, handball, basketball, and volley ball. As a major innovation, this year, the number of disciplines to be competed for will rise from nine to 10, including the Badminton sport as well as the number of young officials will move from four to six. The maximum age to participate in the FENASSCO games is fixed at 18 for secondary schools except participants from teacher training institutions that can be older. As a major concern owing to past crucial situations marring the games, it was announced that the morphology commission will be very strict this time to ensure that only students and not mercenaries are involved in the games.
The games that will swarm more than 2,200 athletes from the 10 Regions of Cameroon are coming to the South West Region for the second time after 2009. The sports event held in Bafoussam, West Region last year.
Same category