Hectic Reception At Nsimalen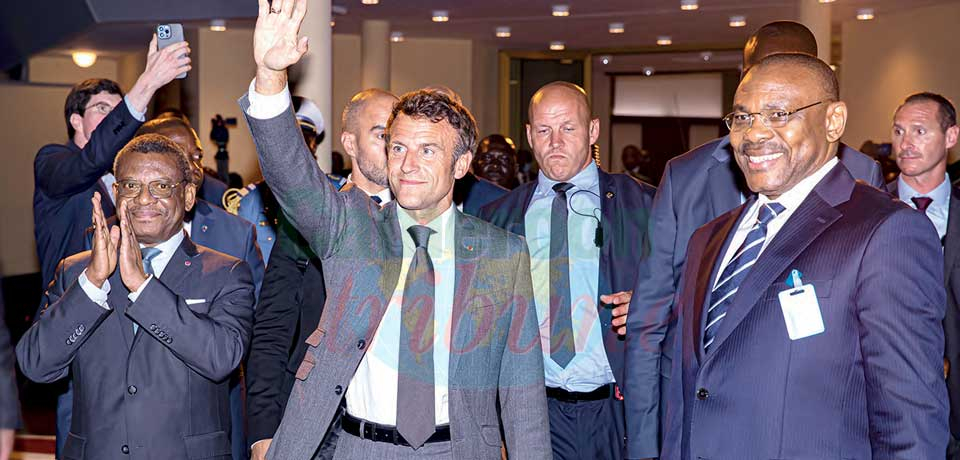 Military officers and civilians gave the august guest the honours he deserves upon arrival.
The Yaounde-Nsimalen International Airport was full, reflective of the personality arriving, the President of the French Republic, Emmanuel Macron. Both military officers and civilians were present at the airport premises dominated by the national flags of the two countries flying at full mast to welcome the French President, who at the invitation of the President of the Republic, Paul Biya, is on an official visit to Cameroon.
On hand to receive the French Statesman, was the Prime Minister, Head of Government, Joseph Dion Ngute, representative of the Head of State, Minister of External Relations, Mbella Mbella the French Ambassador to Cameroon, Christophe Guilhou and Cameroon's Ambassador to France, André Magnus Ekoumou. The turnout at the airport and the reception offered President Emmanuel Macron only translate the friendly and positive ties that exist between the two nations. As the tyres of the aircraft (Airbus 330-200, officially called Cotam 001) on board the French President touched the airport tare marks, there was a huge excitement till the doors of the plane were opened and the French President descended the steps to meet Prime Minister Joseph Dion Ngute at the foot of the plane. A lass dressed in white welcomed the President Macron with a bouquet of flowers with the words translated from French, "Your Excellency the President of the French Republic, Emmanuel Macron, Your Excellency the President of the Republic, Paul Biya and Madam Chantal Biya, and Cameroonians, wish you a wonderful welcome and a pleasant stay in Cameroon," Then followed the emblematic moment of the singing of the national anthems of France and Cameroon and the review of troops.
Besides the statutory welcome accorded the august guest, pleasantries were exchanged before the Prime Minister led the French President to the VIP lounge of the airport for a brief discussion before heading to the Hilton hotel in Yaounde where...
Same category