Commonwealth Games: Youths Told To Be Committed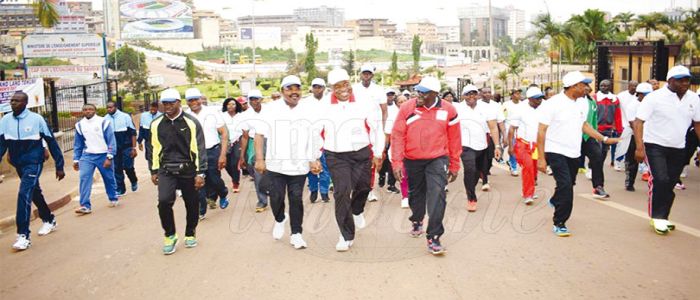 A sports walk took place in Yaounde on Saturday March 10, 2018.
As Cameroon joins the other 52 member States of the Commonwealth family to commemorate the Commonwealth week the role of sports cannot be over emphasized. It is in this light that a sports walk took place in Yaounde on Saturday March 10, 2018.
Speaking at the occasion, the Minister of Sports and Physical Education, Bidoung Mkpatt called on Cameroonians to practice sports in order to be in good health. He said in line with the theme of this year's celebration all Cameroonians irrespective of their sex, age, gender, tribe or religion must consider sports as a powerful tool for building their common future.
Organised by the Ministry of Sports and Physical Education in collaboration with the Ministry of External Relations and the Cameroon Commonwealth Games Association (CCGA), the event brought together members of government, representatives of the Commonwealth diplomatic community, partner ministries, youths and other invitees.
The sports walk which is a component of activities marking the Commonwealth week was the last turn before the Commonwealth Games in Gold Coast, Australia next month. It was also an opportunity to demonstrate Cameroon's readiness towards the upcoming games. The participants walked past the streets of Yaounde carrying placards of the different disciplines in the Commonwealth Games.
Minister Bidoung Mkpatt used the occasion to assure the athletes of government's support not only to help them develop their talents in sports but also to build the common future of Cameroon. He equally called on them to carry out their activities with fairness, equity and respect for each other and wished them success in the upcoming Commonwealth Games in Gold Coast 2018.
Cameroon will be participating in the 2018 Commonwealth Games in six disciplines notably weightlifting, boxing, wrestling, badminton, athletics and basketball men.

Same category