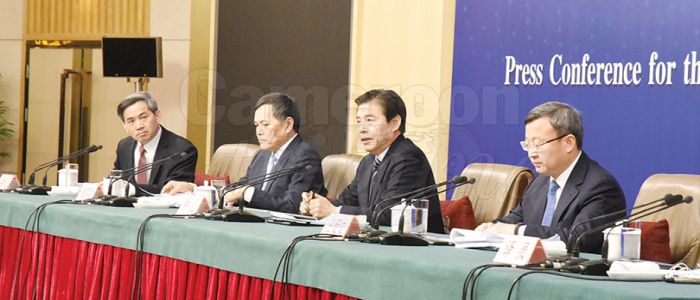 The Minister of Commerce made the pledge at a recent press briefing in Beijing.
Responding recently to a question from a reporter on the quality of China's products, the Minister of Commerce, Zhong Shan, revealed that his country's exports top in quantity, but not quality.
"Most Chinese exports are not quality products," Zhong admitted while speaking on China's decisive policy of opening up on all fronts and promoting high quality development of businesses.
He was addressing a news conference on the sidelines of the first session of parliament at the Media Center in the Chinese capital, Beijing, on March 11, 2018. Zhong stated that Chinese exports in 2017 reached RMB 15.33 trillion (1,292 Trillion FCFA), up by 10.8 per cent; while imports stood at RMB 12.46 trillion (1,050 Trillion FCFA), up by 18.7 per cent, thereby reversing the decline of the past two consecutive years.
A World Trade Organisation, WTO 2016 report shows that the decreasing magnitude in the value of global trade in goods narrowed and China continued to be the largest exporter of global goods. "Private enterprises remained the largest exporters in China," Zhong added.
"Mostly multinationals do export, real, Chinese exports are very few," Dr. Guangjian Xu, Executive Vice-Dean of the School of Public Administration and Policy at Renmin University of China, Beijing, stressed. The Chinese government, nevertheless, is reforming in order to move from quantity to quality exports, and from making products to innovating. Manufacturers who continue to toy with quality as the market grows will certainly pay dearly as it was the case some years back.
As competition increases, so also are producers beginning to cut corners on quality especially for electrical products, footwear, exercise books and body wear. It is therefore left to the consumer to make the best choice if they need quality Chinese products.
That most consumers are not aware of quality differences is indication that the problem is common and irking to households that keep going for the same products at short intervals because the former are bad.
However, the problem sometimes is not with imported products, but rather with importers. They import from just anyone except manufacturers with quality control systems in place. Consequently, they do not arrange for product inspection before shipment to avoid embarrassment over quality.

Same category