Commonwealth Games: Cameroon Bags Home Three Medals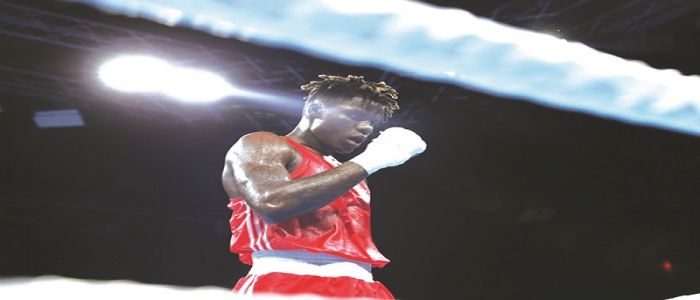 Seyi Wilfried and Marcel Mayack II won silver and bronze on Saturday, eve of the closing ceremony yesterday April 15.
Seyi Wilfried Ntsengue and Marcel Mayack II increased the medal tally for Cameroon at the Commonwealth Games that ended in Gold Coast Australia yesterday April 15, 2018. Seyi Wilfried won silver for Cameroon in the 75kgs final at the Oxenford Studios in Gold Coast on Saturday April 14, 2018.
He was beaten in the final by India's Vikas Krishan 0-5. The Indian, it is alleged, looked too huge and over aged for the Cameroonian who could barely stand the punches of his opponent.
Earlier, in athletics, Marcel Mayack II won bronze in the Men's triple jump final at the Carrara Stadium after he jumped a distance of 16.80; his personal best for the season. Troy Doris of Guyana was first and Duranona Garcia second.
Seyi's silver and Mayack II's bronze medal bring the medal tally for Cameroon to three after the bronze medal won by Clementine Meukeugni in the 90kgs weightlifting lifting event. Still in athletics, the women's 4x100m relay team finished sixth in the final of the competition at the Carrara Stadium Track finishing the race in 45.24.
The team made up of top sprinters like Marie-Gisèle Eleme Asse, Germain Abessolo, Fanny Ekanga Appes and Bell Bonong came after England 42.46; creating a new record for the games, Jamaica 42.52, Nigeria 42.75 and Trinidad and Tobago 43.50.
In the women's free style wrestling Berthe Emiliene Ngolle was beaten by India's Sakshi Malik in the 62kgs event. In the men's 125kgs category, Claude Kouamen Bianga lost to Canada's Korey Jarvis. On Friday, Josephe Essombe Tiako was eliminated from the competition after she lost in the third place final to India's Pooja Dhanda in the 52kgs category. In the 68kgs category Gaelle Alakame Anzong was eli minated and in the men's 97kgs category Cedric Nyamssi was equally eliminated.
Cameroon's performance at the 21st Commonwealth Games is the worst since their first participation in Kuala Lumpur in 1998. In the last edition in Glasgow in 2014, Cameroon won seven medals one gold, three silver and three bronze. Cameroon occupies the 32nd position out of 71 participating countries.
Australia is first with 187 medals followed by England 123 and India with 59 medals. South Africa is the fifth on the general classification table and the first African country. Nigeria is the second African country with six medals and occupies the ninth position.
Same category