South Sudan: President Kiir Pardons Rebel Leader Riek Machar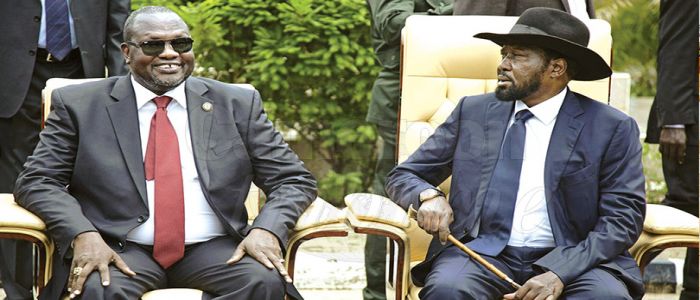 He says the ex-Deputy President's security will be guaranteed if he returns from exile in South Africa.
There is some glimmer of hope for peace in South Sudan after President Salva Kiir on May 7, 2018 announced an amnesty for his former deputy and arch rival, Dr Riek Machar.
According to the website of Netherlands-based Radio Tamazuj, the South Sudanese leader made the announcement on Friday, May 4, 2018 at the close of a meeting of the ruling Sudan People's Liberation Movement, SPLM in the capital, Juba.
President Kiir called on the exiled former Deputy President to return to Juba, pledging that he will provide him full him protection. The South Sudanese leader said he had also requested regional leaders to help bring back the rebel leader to Juba instead of relocating him to another country.
"I said they should bring Riek Machar to Juba and I will guarantee his safety. I will protect him with the national army. If you don't believe me, the RPF (Regional Protection Force) is here. The RPF can take charge of the security of Riek Machar in Juba," Kiir said.
"Nobody would believe that I would call for Riek to be brought back home, but I said bring him back because Riek is a citizen of South Sudan," Kiir explained, adding that he had forgiven his arch rival for any offence committed.
The President assured opponents not to be afraid of him. "Some say if they come to Juba, Salva will kill them, but I am not a killer. I don't like killing, and my soldiers know this very well," he noted.
Machar fled the country in July 2016 after heavy clashes between his forces and troops loyal to President Kiir. Kiir and several other South Sudanese officials have in the past ruled out the return of Machar from exile in South Africa, saying it would re-ignite fighting in the war-torn country.
On May 4, 2018, the SPLM National Liberation Council endorsed the Arusha Agreement on reunifying fragmented factions of South Sudan's ruling party. Taban Deng Gai's announcement came ahead of talks mediated by the Intergovernmental Authority on Development (IGAD), due on May 17, 2018 in Ethiopia.
In January 2015, delegates from three factions of the SPLM party signed a 12-page agreement in Arusha, Tanzania, laying out key steps toward reunifying the party.
Those who signed were President Kiir's party, the SPLM-in-Opposition led by Riek Machar, and a third made up of party officials who were detained when the conflict began in mid-December 2013.
Same category