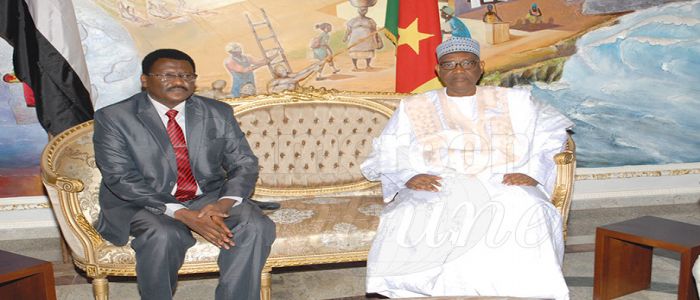 Elzein Ibrahim Hussein Hassan presented the advanced copies of his letter of credence at the Ministry of External Relations on June 1, 2018.
The new Ambassador of Sudan to Cameroon, Elzein Ibrahim Hussein Hassan on June 1, 2018 presented the advanced copies of his letter of credence to the Minister Delegate at the Ministry of External Relations in charge of Relations with the Islamic World, Adoum Gargoum during an audience at the ministry in Yaounde.
Ambassador Elzein Ibrahim Hussein Hassan who was born on January 1, 1963, was before his appointment to head his country's diplomatic mission in Cameroon, Ambassador Head of the African Union in his country's Ministry of Foreign Affairs in the capital Khartoum since October 2014.
Between June 2009 and December 2013, he was Minister plenipotentiary and ambassador Deputy Head of Mission at Sudan's Embassy in N'Djamena, Chad. The Sudanese diplomat has a rich professional experience in diplomacy having worked, especially as counsellor in his country's diplomatic missions in France and Algeria. Between 1999 and 2002, he also worked in the Department of Political Affairs at the Presidency where used to translate in French, official meetings of the President.
Elzein Ibrahim Hussein Hassan is currently working on PHD in political science-international relations. He is holder of a Masters of Translation-Post-graduate College-University of Khartoum, post-graduate Diploma of Translation, University of Khartoum in April 1991 and Bachelor of Arts in French language, Faculty of Arts-University of Khartoum.
He has also undertaken many training courses such as on Diplomatic Practices at the International Institute of Public Administration (IIAP) ENA in Paris, France in 2001, Legal Aspects of Peace Keeping Operations at the Cairo Centre for Conflict Resolution in Africa and a short training course on Development and Results Evaluation International Programme for Evaluation-Canada in Cooperation with IGAD-Addis Ababa in May 2009.

De la meme catégorie