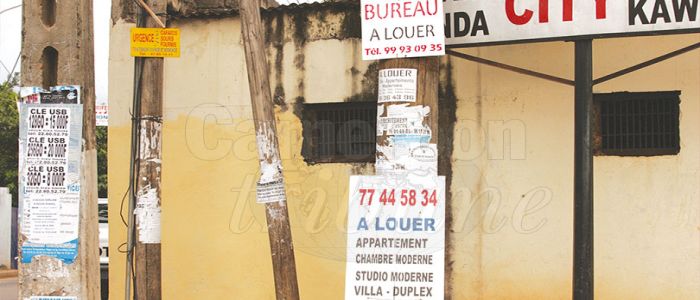 The increased cost of accommodation is partly due to the unchecked activity of unlicensed real estate agents taking advantage of the rising urbanisation in Cameroon's towns and cities.
In the last couple of months, finding a house to rent has been an uphill task, especially in the cities of Yaounde and Douala. Even more startling is bearing the cost of the accommodation after one must have obtained it through an intriguing process.
"The cost is very exorbitant. You can't imagine I am paying FCFA 50,000 monthly for a studio [room and parlour]; more than half of my salary," a newcomer to Yaounde who elected anonymity complained.
With a rapidly increasing urbanisation rate of 3.5 per cent and an urban population rising by at least 5 per cent each year, the quest for rental houses is ever growing. This trend in cities has been compounded by an influx of persons from other ports of the country.
And as acquiring land and constructing in these cities is a big-budget project, while government's low-cost social housing facilities are yet to respond to popular demand, desperate dwellers are bound to seek habitation elsewhere.
Pascal Timor, a primary school teacher, tells Cameroon Tribune he scouted for a 'chambremoderne' (bedroom with flush toilet) around EtougEbe and Biyem Assi for one month to no avail. It was in his second month of frantic search that a friend advised him to make use of a real estate agent.
"I paid the guy FCFA 5,000 for registration and in less than 2 days, he showed me a room which was suitable. He demanded more money and we settled on an extra FCFA 15,000," the tenant narrated.
Besides demand for housing which overwhelms supplies, Cameroon Tribune has gathered that the activity of unlicensed real estate agents is a major factor for the upsurge in rents. Real estate agents rapidly secure empty houses from landlords with promise of a better rent package; in most cases, they propose 10-30 per cent of what the landlord is initially willing to take.
This entices the landlords who prefer that the leasing process in handled by them. Bashir A., like another agent who gave his only name as Innocent say the do so as a survival tactic. "It is not our making. Houses are expensive," one of them said.
According to Barrister Ndangoh Tah Calvin, the agents are operating in total anarchy as they do not have registered mortgage companies. He said there are provisions that punish such actions but on very rare occasions do people bring complaints against the real estate agents.
Same category