International Criminal Court: Jean-Pierre Bemba In Belgium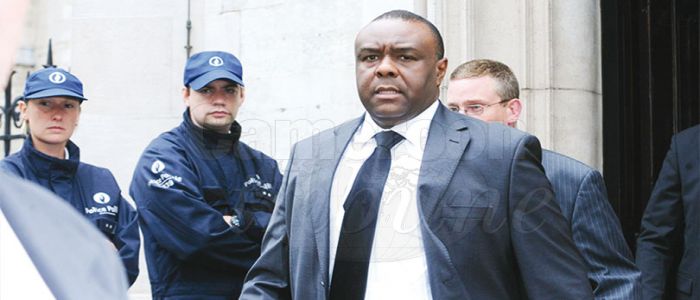 The former Democratic Republic of Congo Vice President was acquitted last weekend on war crime charges.
Jean-Pierre Bemba is a free man after joining his family in the Belgian capital, Brussels on June 13, 2018, sequel to his acquittal on June 8, 2018 and subsequent release on bail on June 12, 2018 by the International Criminal Court, ICC, in The Hague, The Netherlands.
He was convicted in 2016 and sentenced to 18 years in jail. The former Democratic Republic of Congo, DRC warlord, senator and Vice President, was arrested in Belgium on May 24, 2008 on charges of war crimes and crimes against humanity committed by his militiamen in the Central African Republic, CAR between 2002 and 2003 in defence of the government of then President Ange-Felix Patassé.
Bemba arrived in Brussels to a rousing welcome by his supporters and Congolese nationals. Jacques Lunguana, the Secretary General of his Movement for the Liberation of Congo, MLC party, who flew in from the DRC capital, Kinshasa for the special ceremony, said supporters waited impatiently in the streets of Matonge in Brussels for the man they see as the "saviour" of his country.
While on bail, Bemba is awaiting sentencing in another matter related to the crimes committed by his militiamen in CAR in early 2000. Having been found guilty by the ICC for influencing witnesses to lie in his favour, Jean-Pierre is awaiting sentencing on July 4, 2018.
Legal experts say he is likely to leave the ICC detention centre for good because the most he could receive in the present matter is five years imprisonment. Having already spent over 10 years in detention, Bemba will be allowed to go scot-free, the analysts note.
In the Central African Republic where the war crimes of rape, looting and killings were committed, Marie-Edith Douzima, counsel for the 5,229 victims, is lost for words. "Acquittal, no! Reduction of sentence, maybe. But to clear him of all charges as if nothing happened is funny. The judges acknowledged that Bemba's militiamen committed crimes, but he is not responsible!" Barrister Douzima noted.
Back in Kinshasa, Jean-Pierre Bemba's supporters on June 8, 2018 trooped to the MLC headquarters to celebrate his acquittal. "Joy! joy! The Congolese leader is free! Finally, Jean-Pierre Bemba is free!" Desiré Mbonzi wa Mbonzi, a spokesman for the party, told supporters. According to him, Bemba represents the hope of a whole nation.
Same category