HIV/AIDS: Global Mobilisation Reinvigorated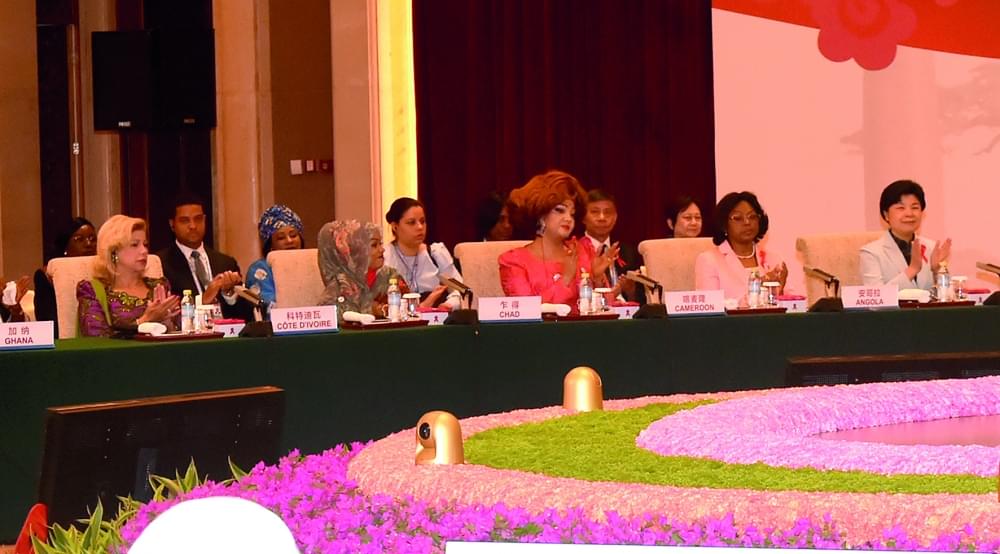 The First Lady of Cameroon has used her stay in Beijing to reinforce cooperation with her counterparts in other countries to attain an AIDS-free future in Africa.
The Summit of the Forum on China-Africa Cooperation has been a very hectic and fulfilling one for Cameroon's Presidential Couple. Most particularly for First Lady, Chantal Biya whose participation at an HIV conference has reinforced the commitment between her and some forty other First Ladies to work hand-inhand towards attaining the objective of an AIDS-free future for the continent of Africa.
Read also :
« C'est un combat de tous les instants »
It will not be an overstatement to state that First Lady Chantal Biya of Cameroon had a fulfilling time in Beijing while accompanying her husband, President Paul Biya at the just-ended summit of the Forum on China-Africa Cooperation. As UNAIDS Special Ambassador, Mrs Chantal Biya used her Beijing mission to actively bring to bear her experience to ensure a free HIV-AIDS Future for Africa and China as well.
Read also :
Développement de la SOPECAM: le plan quinquennal au scanner
This was during an HIV conference regrouping all First Ladies and heads of international organisations attending the Beijing summit of the Forum on China-Africa Cooperation (FOCAC). Chaired by the First Lady of the People's Republic of China, Peng Liyuan, this AIDS Prevention and Control conference whose theme was, "China and Africa join hands for a future free of AIDS", was an ideal opportunity for Mrs Biya to share and gain more knowledge on what she has been doing over two decades. That is, fighting against HIV and suffering while improving livelihood for the most vulnerable.
Read also :
Nécrologie: hommage au Pr. Joël Moulen
The conference was an occasion for the First Lady to showcase her works in curtailing the spread of the HIV pandemic in Cameroon and the African continent in particular. Some of such actions can be seen through the activities of the Pan-African NGO, African Synergy Against AIDS and Suffering in which Mrs Chantal Biya is the Founding President.
Read also :
Bravoure et professionnalisme: deux fonctionnaires de police à l'honneur
African Synergy, which is an embodiment of African First Ladies is greatly involved in mobilising African societies and the international community to fight against the HIV pandemic and other scourges. Creating an AIDS-free-Generation is not a new idea for Mrs Biya whose actions through African Synergy have been to eliminate mother-to-child transmission of HIV and also spearheading the AIDS-freeholidays campaign, which is an awareness campaign for young people by young people.
Read also :
Transport de marchandises: moins de tracas pour les camionneurs
Cameroon's First Lady through African Synergy has created "The Chantal Biya International Reference Centre for Research on HIV/AIDS Prevention and Management (CIRCB), all in order to maximise HIV prevention and care to patients.
Read also :
Usine d'Ebolowa: 996 tracteurs déjà assemblés
For the First Lady to have met and discussed with the Director General of the World Health Organization, Dr. Tedros Adhanom Ghebreyesus and the Executive Director of UNAIDS, Michel Sidibe, this is like a tap on the bag to do more for the populace in inhibiting HIV.
Read also :
« Tout le monde peut avoir accès à ces équipements »
The summit has ended, but for the First Lady, this is just a continuation as far as her efforts are concerned in curbing HIV in Cameroon and African in general. She and other African First Ladies have renewed their commitment to the above-mentioned cause by pressing on the red ribbon logo of awareness, in solidarity with people living with HIV/AIDS all over the world.
Read also :
Eau potable: production renforcée à l'Ouest
Same category