African Development Bank: Cameroon To Host Central African Regional Office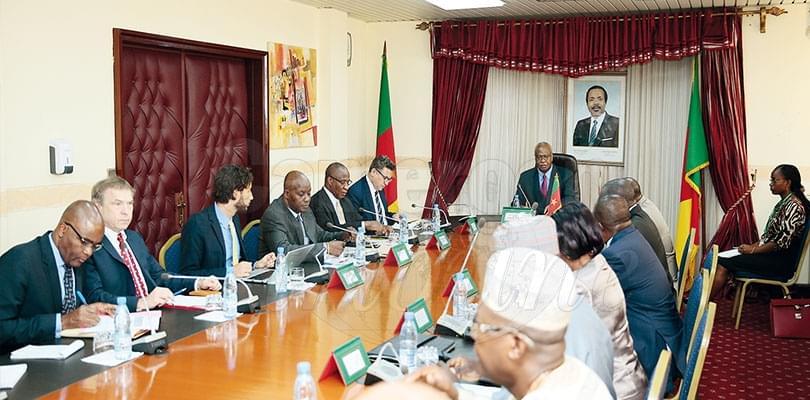 The banks visiting delegation had a working session with Prime Minister Philemon Yang on September 17, 2018 at the Star Building.
The Vice President for Regional Development, Integration and Business Delivery Complex at the African Development Bank, Khaled Sherif says, "We are in Cameroon to announce that we have selected Cameroon as the headquarters of our Regional Office for Central Africa."
Read also :
« C'est un combat de tous les instants »
He made the announcement at the Star Building in Yaounde on September 17, 2018 after he led the bank's delegation members to a working session with Prime Minister, Head of Government, Philemon Yang who was accompanied by some cabinet ministers.
Read also :
Développement de la SOPECAM: le plan quinquennal au scanner
The working session besides focusing on Cameroon- African Development Bank relations, more importantly laid emphasis on the modalities for the location of the office. The bank's office will bring in over 100 staff to Yaounde.
Read also :
Nécrologie: hommage au Pr. Joël Moulen
Khaled Sherif explained that the choice of Cameroon, "Speaks of the confidence we have for the Cameroonian economy and the confidence that we have in vision 2035 as outlined by the Head of State." He said the African Development Bank was a partner in implementing vision 2035 that is intended to make Cameroon an emerging country. Concerning the Cameroonian economy, the African Development Bank's senior official said "We see that the economy is progressing very well."
Read also :
Bravoure et professionnalisme: deux fonctionnaires de police à l'honneur
This, he said, was because they noticed that for the last five years the economy has maintained a 4.9 per cent of the growth in Gross Domestic Product (GDP) and this has been accomplished at the period of the oil shocks and the internal security crises that have been rocking Cameroon. He further said, "It speaks of the resilience of the economy that 4.9 per cent growth rate of the GDP has been maintained."
Read also :
Transport de marchandises: moins de tracas pour les camionneurs
Besides discussing on the location of the bank's Regional Office for Central Africa in Yaounde, Khaled Sherif stated that they were also in the country to offer the bank's services to promote development. The bank's current portfolio in Cameroon is about 1.8 billion U.S. Dollars (more than FCFA 875 billion) and covers some 23 projects.
Read also :
Usine d'Ebolowa: 996 tracteurs déjà assemblés
He promised that African Development Bank was going to expand the projects and the lending in Cameroon. He said that this year, the bank is including the construction of the Bamanda Ring Road. "We will also be providing budget support to help the government address the issue of debts and we will continue with the portfolio till the end of this year," he equally disclosed.
Read also :
« Tout le monde peut avoir accès à ces équipements »
Same category