Nigeria Determined To Maintain Superiority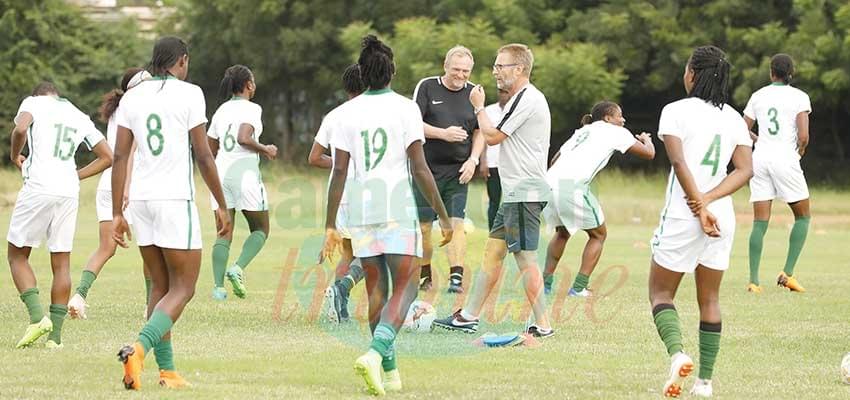 Ahead of the semi-final match against the Indomitable Lionesses of Cameroon, the Super Falcons are working hard to win the trophy once again.
The Super Falcons of Nigeria are leaving nothing to chance as they prepare to face the Indomitable Lionesses of Cameroon today at the Accra Sports Stadium. After their 6-0 win against Equatorial Guinea in their last group game in Cape Coast on November 24, 2018 the team is determined to maintain their superiority in the history of the competition. The Super Falcons of Nigeria arrived in Accra from Cape Coast some 149km from Accra on Sunday November 25, 2018. The Nigerian women's football team is presently residing at the AH Hotel in East Legon. The team had its last training session yesterday November 26, 2018 at the Pressec Stadium in Legon in the outskirts of Accra.
During the pre-match press conference yesterday at the Accra Sports Stadium, the coach of the Super Falcons, Thomas Dennerby said his team is going to play tough game today against Cameroon and that the players are well prepared and focused on the game. He said the players are in good health and are fit today's game. He said their dream is to take the trophy back to Nigeria and to go to the World Cup next year. Coach Dennerby said the players must stick to the match plan and that they will do all that it takes to win today's match. Team Captain, Onome Ebi said encounters between Cameroon and Nigeria have always been difficult but they will respect their game plan and they are ready.
Today's match will be the 12th meeting between Nigeria and Cameroon. In the previous eleven meetings the Super Falcons of Nigeria have won nine and the Indomitable Lionesses one and one draw registered. Both teams have played three finals all of which have been won by Nigeria. Today's game will be the fifth semi-final game between the two teams and the tenth consecutive meeting between the two teams since 2004. In the last edition in 2016 in Cameroon Nigeria beat Cameroon 1-0.
Same category