« We Believe In The Players »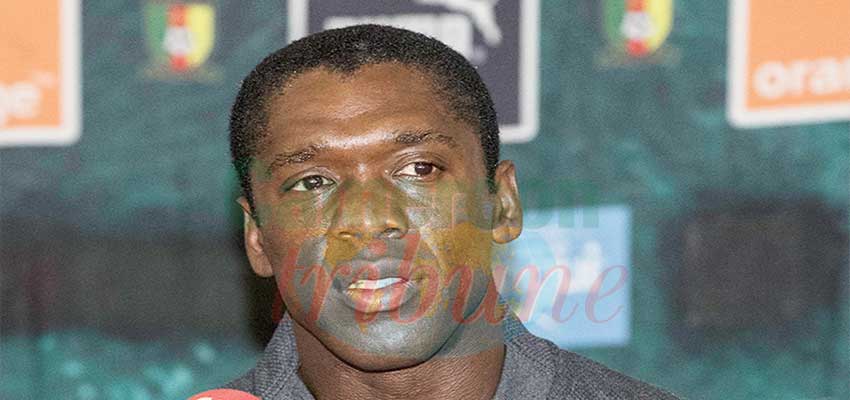 Clarence Seedorf, Indomitable Lions coach.
On the eve of the match against Comoros, what is the mood in the group?
The mood is good. Everything is good. The training sessions have been intense. The players are working very hard. Yesterday was the day they recovered a little bit. Today we will fine-tune everything and then we are ready.
Tomorrow's match will be a crucial one. What criteria will guide your choice of players for the match?
The criteria are simple if we look at the training sessions. But we have also played matches and we know more or less with which players we want to start. And sometimes which player you have in mind, if he is not in good shape then you put another that may be better but we believe in all the 23 players. I think there are some who can come in the match and make the difference. So that is how we prepare the match. Everybody knows what they have to do in their positions. So we are ready. We know the players and we believe in them. The pressure is there but that is also nice to play a match that counts really. So I am very optimistic.
The context under which the match will be played will be different given that during the last match, the Indomitable Lions were already qualified (as host) for the next Africa Cup of Nations. Will this context push you to modify your game plans?
Yes, definitely it changed the plans. Now we need just to qualify. Anyway, it did not really change our mentality because we want to win every match. Now we know that the Comoros have more pressure than us. They are playing away against Cameroon. They have to win. They only have one result so we just need to play like we know. Be defensively organised, aggressive and then when we have the chance we score goals.
The Comoros team gave the Indomitable Lions tough times in the away leg game. What could make a difference this time around?
We play at home. We play on normal grass which is also a huge difference. We know each other now much more. I mean the away leg game was our first match. We had a lot of difficulties in our preparations. We are a better team now than we were then.
The absence of local players in the teams raised eyebrows. What explains your choice of professionals for this encounter?
It is not about local players. It is the players of the national team that have been called. So we believe that they are the right players for the job. All the players were local before. The ones who are playing abroad, as everybody calls them, but they are all Cameroonians. We call the players that we think should be in the first 23. There is a big difference when we talk about international football. We need to work on a plan for local players. But it is a whole different project. Our ambition is to qualify now, to be competitive and to try to win AFCON. The others are playing with their best players. Most of the teams are not playing with local players. Morocco is playing with all their international players and Morocco has a proper league going on. So it is all getting the best players because all these players are Cameroonians. If you remember, we have already brought a few local players. The condition needs to be there because we want to integrate some local players to see them, test them but I cannot go into details because it is not related to what we want. FECAFOOT and government need to have their conditions in order to make a plan that we can improve on local football. Overall that should be the focus not just about the local players in the national team.
What are your main activities when you are outside Cameroon?
My main activities are to coordinate my staff when we are in Europe or elsewhere which is monitoring the players, watching their games. I mean today you don't have to fly everywhere to see the games. We have on Internet Wise Scout, you can follow things constantly and from organisational point of view I am in touch with FECAFOOT management almost every day because there is always something going on. In terms of being here, if there is an activity we come here.
We saw you deeply involved in the situation of some players who voluntarily put an end to their activities with the national team. How far have you gone?
They are not here. That is the situation. We have got all the players who want to be here. I am not going to talk about the reason why the others are not here. It is for them to explain but we have tried, we have spoken and the result is the players that you have seen. We are very happy with the team and the players who have been with us until now and we feel that we are very competitive with this group.
Rumours recently linked you with Real Madrid. Does this mean that you could be on your way to embracing another challenge elsewhere anytime from now?
Obviously, my relationship with the club is a special one. The fact that it was so heavily in the news is probably new things but I am here. My focus is here.
Same category