Sri Lanka: Nation Still Recovering from Easter Bloodbath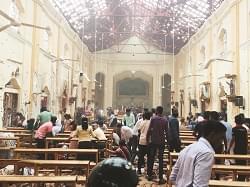 Close to 200 people were killed on April 21, 2019 after terrorists targeted churches and hotels
The people of Sri Lanka are mourning the death of close to 200 people on Easter Sunday April 21, 2019 when terrorists struck across the country, targeting churches and major hotels. Amongst the dead were at least 35 foreigners, while 500 were injured.
A night time curfew is now in place as the government has imposed temporary restrictions on social media to prevent the spread of wrong information, agency reports said. People have been queuing up in front of hospitals to donate blood, while condolence mes sages from world leaders have been pouring in.
"The acts of violence against churches and hotels in Sri Lanka are truly appalling, and my deepest sympathies go out to all of those affected at this tragic time. We must stand together to make sure that no one should ever have to practise their faith in fear," British Prime Minister Theresa May said Russian President Vladimir Putin denounced the attacks as "cruel and cynical." "Moscow remains a "reliable partner of Sri Lanka in the fight against international terrorism," Putin said. Indian PM Narenda Modi said there was no place for such barbarism.
"My thoughts are with bereaved families and prayers with the injured," Modi added. Sri Lanka's Prime Minister Ranil Wickremesinghe described the blasts as "cowardly" and called on the people to remain united and strong. Pope Francis expressed sadness at the attacks and said he stood with the victims of "such cruel violence."
At least eight blasts hit churches and hotels. Suspected suicide bombers simultaneously struck at about 8.45 am local while Easter masses were in progress in churches. The first six blasts hit churches and three five-star hotels. Three churches in Negombo, Batticaloa and Colombo's Kochchikade district were targeted, while the Shangri-La, Kingsbury, Cinnamon Grand and a fourth hotel, all in the capital, Colombo, were also hit. Though no group has claimed responsibility or the attacks.
Same category