Cameroon-USAIDS Relations : Humanitarian Aspects Discussed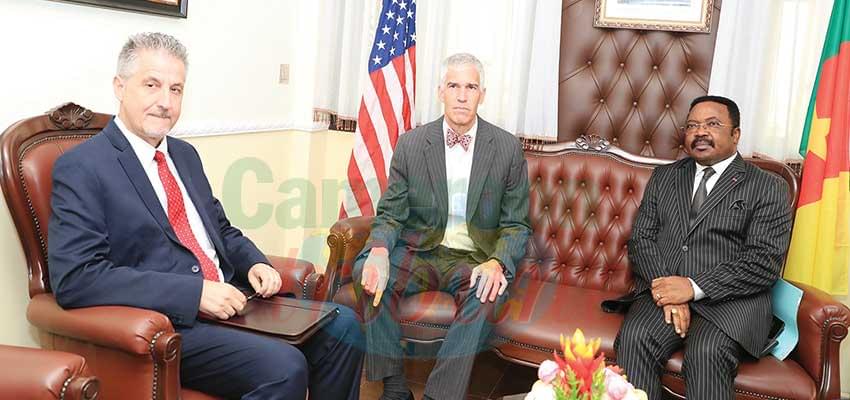 This was during an audience accorded the Mission Director to USAID's West Africa Regional Mission at the Ministry of External Relations on August 14, 2019.
The Minister Delegate to the Minister of External Relations in charge of Relations with the Commonwealth, Felix Mbayu, on August 13, 2019 granted an audience to the Mission Director to USAID's West Africa Regional Mission, Daniel Moore during which both parties discussed humanitarian and disease control aspects in Cameroon. The Regional Director was accompanied to the audience by the US Ambassador to Cameroon, Peter Henry Balerin.
Speaking to the press after the over 40 minutes audience, Daniel Moore stated that he held talks with the Minister Delegate on the United States' plan in supporting Cameroon in the fight against certain diseases, humanitarian assistance and promoting the peaceful resolution of conflicts between parties. "Our programme focuses on helping Cameroon fight against diseases such as malaria, HIV/AIDS, amongst others. We have a programme focused on resolving conflict through non-violent means and fighting violent extremism. We equally have a significant humanitarian assistance programme to assist internally displaced persons, as well as refugees in the country," he disclosed.
Daniel Moore was sworn-in as Mission Director to USAID's West Africa Regional Mission in July 2018 and has been working for USAID for over 25 years with over 20 years of service in Africa. Mr. Moore has notably served as USAID's personnel in Ethiopia, Philippines, Tanzania and Cameroon. He has also equally worked as Peace Corps Volunteer, teaching physics and Mathematics in the North West Region of Cameroon
Meanwhile, USAID Cameroon has constantly partnered and supported the government in several disease control, social and humanitarian aspects.

Same category