Artificial Intelligence : Stakeholders Brainstorm on Dangers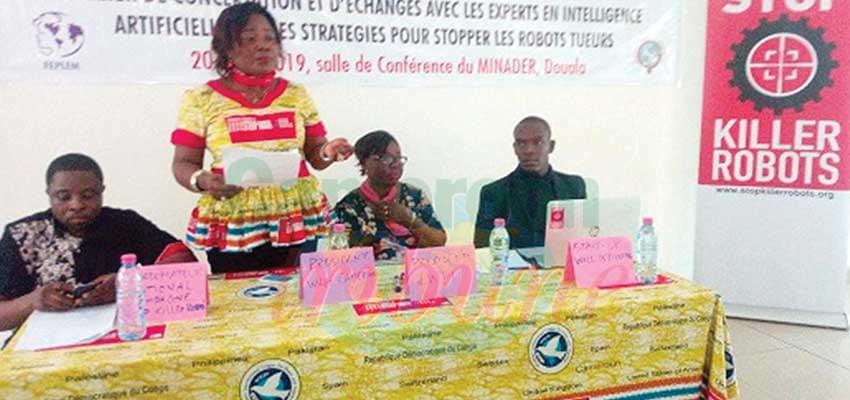 The "Campaign to stop killer robots" is a coalition of NGOs who seek to preemptively ban lethal autonomous weapons.
Campaign to stop the production and use of killer robots is gaining grounds in Douala. This was evident during a workshop that brought together on August 20, over 10 Non Governmental Organisations (NGOs) within the city. The workshop organised by the Women's International League for Peace and Freedom (WILPF) Cameroon was a rare moment for stakeholders to brainstorm on how to come out with a blue print that would be use as an advocacy document to push for the non production and usage of killer robots.
Read also :
UPF-Cameroun : Evelyne Owona Essomba aux commandes
It is becoming evident that the production of killer robots is on a high gear and some world powers are developing weapons systems with significant autonomy in the critical functions of selecting and attacking targets. If left unchecked the world could enter a destabilizing robotic arms race. Fully autonomous weapons would decide who lives and dies, without further human intervention, which crosses a moral threshold. As machines, they would lack the inherently human characteristics such as compassion that are necessary to make complex ethical choices. Replacing troops with machines could make the decision to go to war easier and shift the burden of conflict even further on to civilians. Fully autonomous weapons would make tragic mistakes with unanticipated consequences that could inflame tensions.
Read also :
Trois Lys-Nsimalen : des perspectives plus grandes
Against this backdrop some NGOs meet in 2013 and launched a campaign to stop killer robots and pre-emptively ban autonomous weapons so as to give peace a chance. WILPF is one of the NGOs leading the Campaign in Cameroon. Consequently, Tuesday 21 August 2019 workshop was just another forum to put pressure on Cameroon government to adhere to international legal framework to stop killer robots. According to the President of WILPF Cameroon Sylvie Ndongmo, it was important for stakeholders to understand how these weapons could be harmful in a country facing security challenges like Cameroon. She said they are out to build initiatives to advance discussions towards the adoption of a national advocacy document.
Read also :
Climat social à Hevecam : le nouveau DG veut communiquer
Same category