"Our Central Issue Is To Lobby For Peace To Return"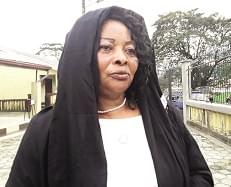 Agbor Meg, South West Chair of CAWOPEM.
How did you come about organising this Candle Light Vigil?
Our central issue is to lobby for peace to return to our nation. We are all aware of the challenges we are facing. We thought we have done all that is possible to bring peace in our nation and we have not really seen anything very encouraging. So at this point in time, we thought as women that we should turn to God. This Candle Light Vigil is going through all the ten regions of our nation. We are calling on God to forgive those who have over the two years victimised, killed, manned, raped our daughters, our women and brought unbearable pain on our women and girls. We are calling on all the women in our nation to stand up and say no to violence, no to abduction and shout out for peace and light. The children we have in the bushes are our children and we know them. It is only a mother who will talk and a child will listen. We are begging our children to come out of the bushes. Violence has never solved a problem. We cannot longer withstand the killings, rapes and insecurity. We don't want to hear the sounds of guns. So we are turning to God because with him, everything is possible.
What is the impact that this Candle Light Vigil brings to end the crisis in the North West and South West Regions?
We are turning our heads to God and he always hears his children when they cry to him. We are going to build the capacity of our young girls. It is an opportunity for us to close the generational gap. You will agree with me that the issue of no communication between the older and younger generation is part of the problem we are facing today including poverty, unemployment etc. So we will train young girls and give them capacity so that they can always voice out their needs. So that we don't wait until we are at the point of exploding before we talk. We will train them how to talk and talk in a peaceful manner.
Any message to those cutting fingers and killing others in name of the struggle?
Those our children in the bushes who have turned against us, killing us and cutting our fingers are still our children. The women, you gave birth to these children. Let us go back and tell them to put down their guns and if they do now then the prayers we have prayed for their forgiveness, they will be forgiven. But if they don't, as women we will go down on our knees and ask God to take care. We are asking them, please we have heard. Enough is enough, come out and lets talk in a peaceful manner. It will be resolved. It has already started with the National Dialogue. Any hope from the National Dialogue? I am very hopeful because I am a woman who loves peace and I think if the guns are put down then we can create an enabling environment for justice to prevail.
The way it is now, you cannot give anybody the chance even if someone wants to take just action. Who are those suffering? The same people you think are treated unfairly are the ones you are putting more pressure and more pains upon. I hope that all the viewpoints collected during the National Dialogue should be implemented timely
Same category