Korea National Day Celebrated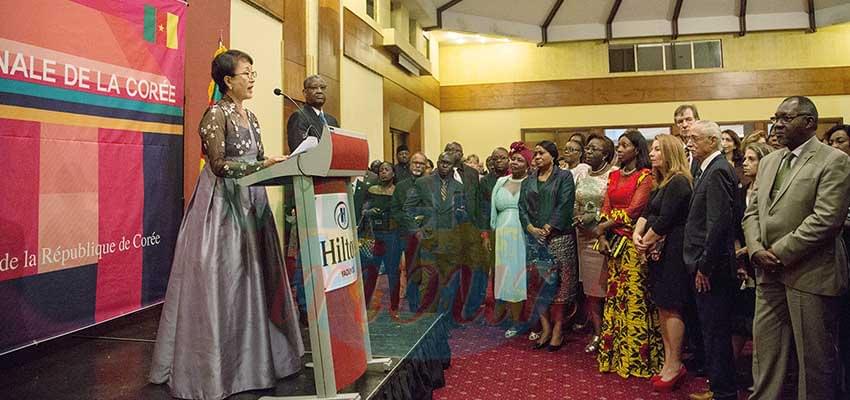 The event took place at the Yaounde Hilton Hotel with cultural activities and friendship celebration.
Korean Ambassador to Yaounde has hailed the excellent relations existing between Korea and Cameroon. Ambassador Bok Ryeol Rhyou was speaking on October 17, 2019 during celebrations marking the 74th Anniversary of the Korean National Day in the presence of the Minister Delegate to the Minister of External Relations in charge of Relations with the Islamic World, Adoum Gargoum. According to the Ambassador relations between the two countries date from 1961. Since then, the two countries have continued to strengthen their bonds of friendship and cooperation in various domains with the construction of the Yaounde Emergency Centre, the ongoing building of the Garoua Reference Hospital, the commissioning of three vocational training centers in Douala, Limbe and Sangmelima and the Rice Cultivation Centre of Avangane.
She added that the Korean government has proposed a common guideline to Cameroon which helps the two countries implement their cooperation and partnership projects. Since the establishment of this training guide followed by close consultations between the two governments, many Cameroonians have benefited from scholarships and internship programs in Korea and training offered by Korean International Cooperation Agency (KOICA). Beyond the political and economic dimensions of the bilateral cooperation, the Korean Embassy has opened the Korean Corner at the International Relations Institute of Cameroon so as to meet the fast-growing demand of young Cameroonians willing to learn the Korean language and culture.
To add more colour and flavour to the blossoming relationship between the two countries, a joint exhibition of embroidery was organized at the National Museum alongside a Korean cultural week which show-cased Taekwondo by the National Team of Korea and the k-pop dance at the Yaounde Conference Center.
She expressed the wish to see the two Koreas together especially now that they have decided to form a unique team and march together at the opening ceremony of the 2020 Tokyo Olympic Games "Re-unifying the two Koreas peacefully is the dream of all Koreans. And this dream cannot come true without the support of the international community", she reiterated.
Same category