Regional, Local Authorities : Government Gives Clarifications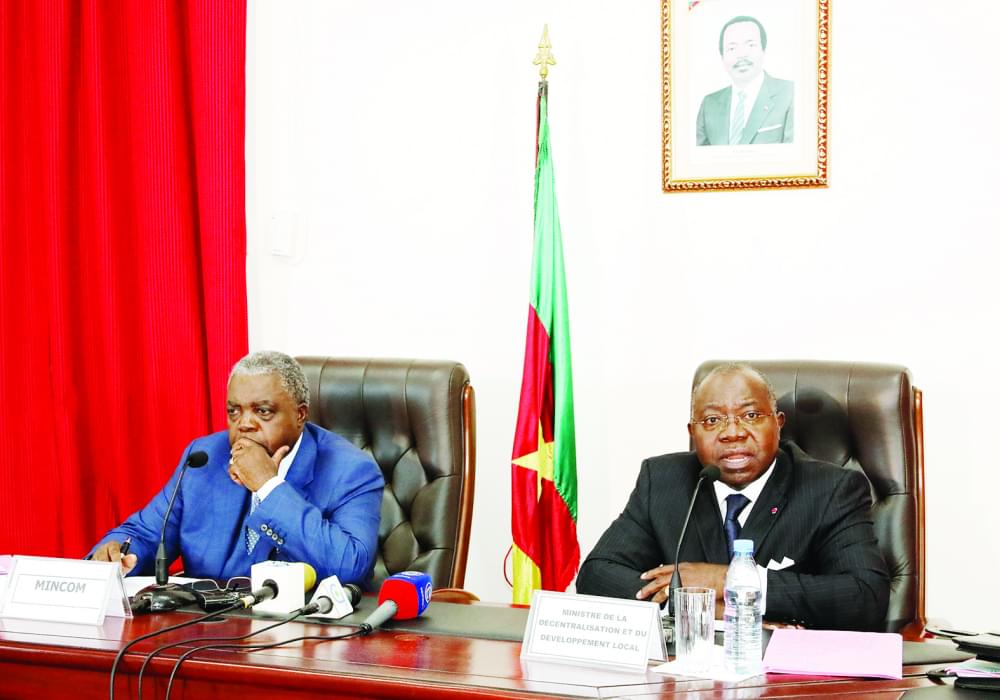 Minister Georges Elanga Obam answered questions during a joint press conference with the Minister of Communication on January 14, 2020.
Cameroonians henceforth have more facts on the Law on the General Code on Regional and Local Authorities following clarifications the Minister of Decentralisation and Local Development, Georges Elanga Obam gave during the joint press conference he granted with the Minister of Communication, René Emmanuel Sadi in Yaounde on January 14, 2020.
The joint press conference was on social peace, national security and cohesion and the raising of public awareness on the General Code of Regional and Local Authorities. Minister Elanga Obam answered 11 series of questions from journalists. Answering the question on whether Section 246 of the Code that provides that Mayors of Cities should be natives from the areas does not go against the government option of national integration. He said the provision has instead opened up opportunities because any person from the region concerned can be the Mayor of the City. He said the position of appointed Government Delegates the Code replaces, all the Government Delegates were natives of the cities concerned.
With regard to when the Regions will go operational, the Minister said it depended on the Head of State. He however said, things were evolving as the municipal councillors who will elect the Regional Councillors will be voted during the twin legislative and council elections of February 9, 2020. He said the Law to Institute the General Code on Regional and Regional Authorities was being implemented. Concerning the adequate personnel in quality and quantity to run the Regional and Local Authorities considering the powers devolved to them, the Minister said the Head of State has instituted the local public service that provides for the recruitment of personnel. He said the Local Government's Training Centre in Buea (CEFAM) will be transformed into the National School of Local Administration almost raised the status of the National School of Administration and Magistracy (ENAM) with the mission to train highly qualified staff to work in the Regional and Local Authorities.
The Minister also answered questions on the financial regime applicable to the Regional and Local Authorities, stressed that according to the Law at least 15 per cent of the State budget will be allocated to Regional and Local Authorities serving as the General Decentralisation Allocation. He said the measure will not start with the 2020 State b...
Same category