Citizens Trapped Abroad : 61 Cameroonians Arrive In Yaounde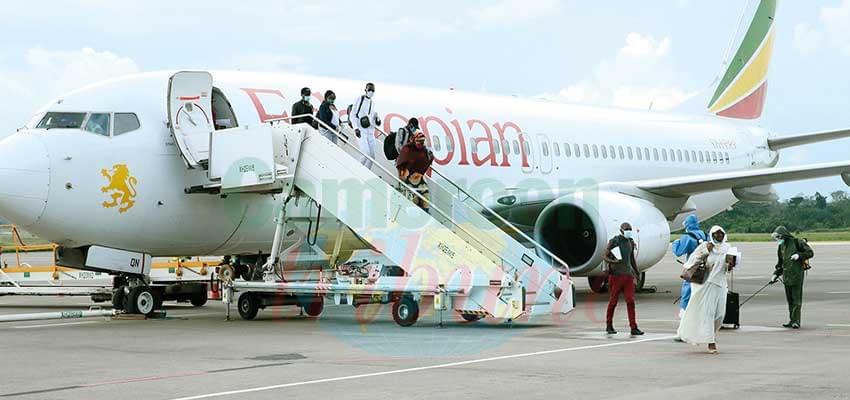 Centre Regional Governor, Naseri Paul Bea was at the Yaounde-Nsimalen International Airport, May 11, 2020 to oversee the arrivals
Some 61 Cameroonians who were as a result of the COVID-19 pandemic trapped in the Central Africa Republic (CAR) have returned home on board an Ethiopian Airlines ETAQN special flight. All passengers related costs were covered by the government of Cameroon and the Governor of the Centre Region, Naseri Paul Bea was at the Yaounde-Nsimalen International Airport on May 11, 2020 to follow-up the arrivals.
The plane which touched down at 5:25pm was disinfected for over 15 minutes, with each passenger again disinfected with a medically composed alcoholic solution upon descending from the aircraft. A standby medical team comprising healthcare providers from the World Health Organisation (WHO) and the Ministry of Public Health took the temperatures of all passengers and administered tests with results obtained within 15 minutes. The returning travellers were visibly happy to be back in the country and promised respecting all medical prescriptions for health and safety. A 70-seater bus was on hand to transport the returnees to their areas of isolation.
After monitoring the operations, Governor Naseri Paul Bea lauded the initiative of the President of the Republic to make sure that all Cameroonians trapped out of the country and or who find themselves in difficult situations return home. "As we know, home is home and it is difficult for you to feel comfortable in another person's house. Some of this people went on mission and could not come back because the frontiers are blocked. It is a very laudable initiative...
Same category