Vaccination Success : Collective Commitment To Fight Misinformation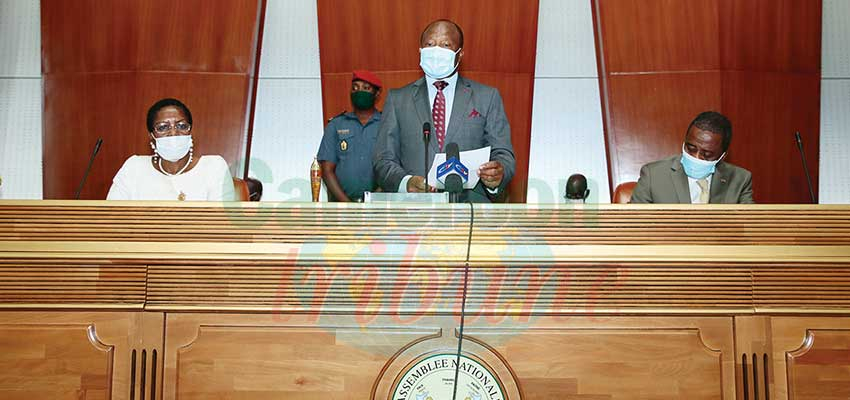 A special plenary sitting took place at the National Assembly on November 19, 2020 on the problem of vaccination and hygiene in public health.
Government and Members of the National Assembly have taken the commitment to fight prejudices, misinformation using the media and the campaign by some individuals as well as some religious bodies that are impeding the smooth implementation of the vaccination programme against preventable diseases in Cameroon.
The commitment was taken during the special plenary sitting of the National Assembly on November 19, 2020. The objectives were: to better acquaint MPs and the general public with the problem of vaccination in order to get rid of all prejudices and misgivings about vaccination ; raise awareness of Members of the National Assembly and that of the general population on the importance of vaccination and its health benefits ; enlist public support to vaccination on account of its importance to public health ; and explore prospects for our country to finance and produce its own vaccines.
The Vice Speaker of the National Assembly, Hon. Théodore Datouo chaired the plenary sitting on behalf of the House Speaker, Rt. Hon. Cavaye Yeguie Djibril. He stated the context of the special plenary sitting that was characterised by the reticence of a certain fragment of the population to be vaccinated. He said the scepticism originated from misinformation campaign broadcast over some media and social media networks. Faced with the upsurge of reticence to vaccination, he reiterated that the plenary sitting was for information, awareness creation and advocacy. He therefore called for information and awareness creation mechanism to be put at the disposal of the population. He remarked that vaccines were expensive and because of that, most countries can only carry out the public service mission thanks to the contribution of some donors who unfortunately have been withdrawing their support. Hon. Datouo therefore called on government and parliament to ensure that there should be provisions in the Finance bill for Cameroon to take over the relay in filling financial vacuum so as to be independent in the production of essential vaccines.
The Minister of Public Health, Manaouda Malachie situated the context, stated government efforts to vaccinate citizens. He disclosed that three of ten Cameroonian children are not vaccinated, which speaks for the drop of the vaccination coverage rate caused by the misinformation campaign. As a result, he reported an upsurge in the cases of measles and polio. Vaccination against cervical cancer in young girls has been at the centre of the debate but the Minister said studies have shown that girls vaccinated have no problem. He enumerated government efforts to become autonomous in the production of vaccines and appealed, «Let us accept vaccination, let us support and promote vaccination. »
Before general debate and resolutions, the Minister of Basic Education, Laurent Serge Etoundi Ngoa stated the mission of his ministry in ensuring the vaccination of the children and public health hygiene.

Same category