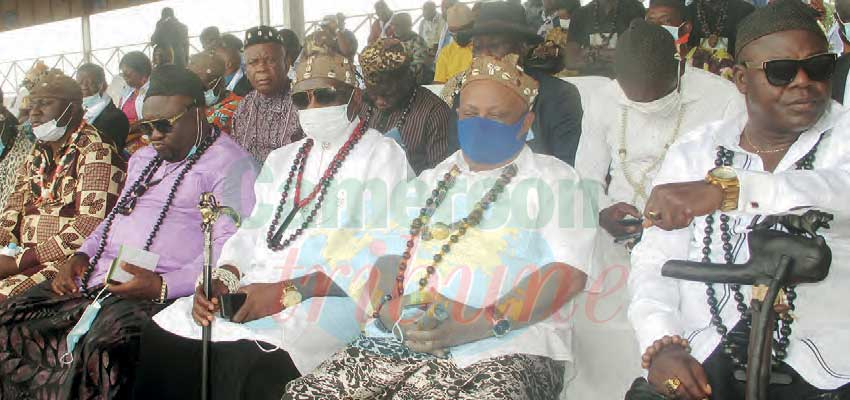 The six divisional constituencies for traditional rulers are taking the heat of next Sunday Regional Election.
Amidst the stumbling and rising of candidates for votes come Sunday regional council polls (6 December, 2020), South West traditional rulers (Chiefs) whose Electoral College is separate from party maneuvers have styled their own campaign on cluster groups of peers.
In Buea where vote canvassing has taken the last bend this week, the chiefs of Fako Division are upbeat to make history in this first step to rebuild the House of chiefs in the likes of what nostalgically obtained before 1972. Going afield, the Fako constituency of traditional rulers postulating for the Regional House of Chiefs began their campaign last week and are finalizing it before this weekend. Their own mode of election crusade like in the entire Region imbibes royalty and warrants dignity as it starts and ends among peers. According to the local monarchs, they are meeting their electorate in Sub-Divisional clusters.
Candidate Chief Monono Etina Emmanuel, a Second class Chief from Buea Sub-Division is heading the lone Fako list including Chiefs Molive Molungo Otto of Limbe and Kalla Essoh Richard of Tiko. Their campaign strategy has been to meet their peers in clusters, harvest what they would want tabled in the Regional House and promise to be their mouthpiece during sessions. It is a sort of campaign without drums but with a lot of whispering to the various ears so that the South West Region can really swing into development with adequate roads, electricity and water supply without tears.
In Lebialem Division, the First Class Chief, Fon Asabaton Fontem Njifua from Fontem Sub-Division is leading the chiefs' only list including Foto Felix Asongna from Alou Sub-Division and Fon Nkemtaji Jerry Jong from Wabane Sub-Division. The trio has made several contacts with their peers receiving assurance that Sunday will be a win-win day for them.
The Meme Divisional single list headed by Ndoh Obase Oscar a Second Class Ruler from Kumba I Sub-Division, includes Akama Sona Elango from Konye Sub-Division and Kenneth Mukete Elondo from Mbonge Sub-Division. These local monarchs of Meme Division are pleading with their peers to give them the totality of votes so they can represent them in the Regional House of Chiefs by next Sunday ballot.
In Ndian Division Chief Sangi Essieni John (first class) will lead a singleton list including Chiefs Ngannya Emmanuel Efamba and Mukete Lucas Itoe to the new house of Chiefs for the South West Region. The trio is shuttling through sea and land to meet their peers for votes come Sunday, 6 December, 2020.
Manyu Division has propelled Chief Oben Orock Godson, a First Class Chief of Mamfe Central to head their only Divisional list including Chiefs Odekpo Akpana Valentine Adevo, Ojang Eno Cyprian and Egbe George Ashu to represent their peers in the House of chiefs in Buea.
From Kupe Muanenguba Division, Chief Atem Ebako Bisong Andrew, a Second Class Chief will lead a list of four to the Regional House including chiefs Ekwele Emmanuel Makoge, Bernard Ebong Salle and Ediage Francis Bwang.

Same category