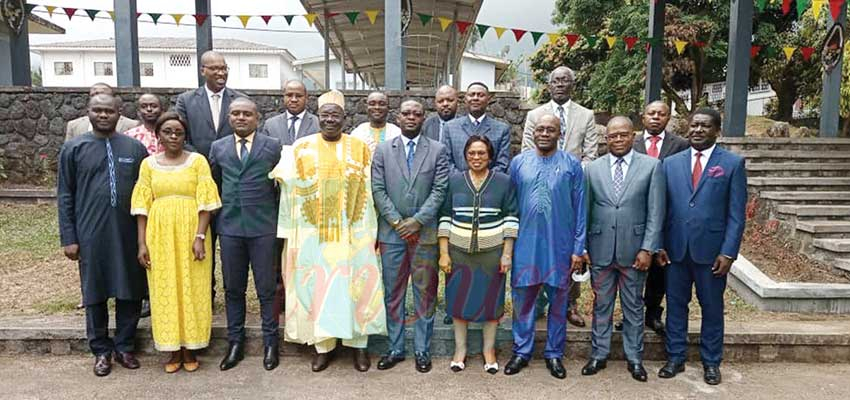 After their second Board meeting, Chairman Mouhtar Ousmane Mey saluted management for dynamism and energy at work.
The second Board of Directors' meeting of the National School of Local Administration (NASLA) has instructed management to take ready measures and prepare the ground for an eventual pioneer batch of student- trainees in 2021.
The pioneer Board members of NASLA sat last 17 December, 2020, in the Institution's Boardroom under the Chairmanship of Mouhtar Ousmane Mey, and voted a FCFA 5. 837. 423. 743 budget to run NASLA in 2021. The Director General of NASLA, Tanyitiku Enohachuo Bayee, presented reports and documents required for the session. Priorities assigned to the budget included to enable the school effectively take off with all necessary activities and better care for their personnel. Equally in the realm of the budget are some key investments to propel the school to a mandatory performance level.
Mr. Mouhtar Ousmane Mey came out of the Board session satisfied with NASLA management for what he termed a proper presentation of documents and reports. "The management team is young, dynamic and energetic with readiness to work and produce results", the Board Chair remarked to the press. The full Board of 10 deliberated and urged the school's management to ensure sustainability in management of material and personnel, by way of welfare, training, and harnessing. "We were instructed by the Board to put in place all the mechanisms for an effective entrance examination into the Institution", Enohachuo Bayee told the press at the end of the Board meeting. Management was also instructed to accomplish the budget efficiently, investing in the personnel for expected results.
The young school of local administration was created and located in Buea, capital of the South West Region, last 2...
Same category