Reconstruction of the South West Region : Japan Pledges Support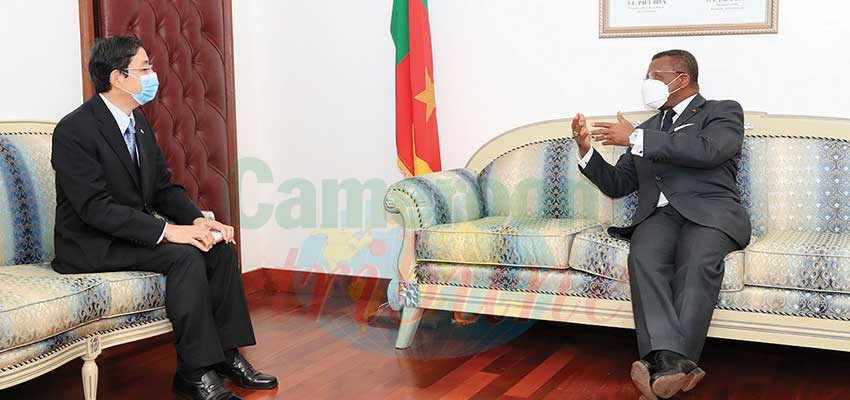 Prime Minister Joseph Dion Ngute received in audience Ambassador Tsutomu Osawa of Japan on January 22, 2021.
The Prime Minister, Joseph Dion Ngute on January 22, 2021 granted an audience to the Japanese Ambassador to Cameroon, Tsutomu Osawa during which both personalities discussed bilateral cooperation and Japan's support to peace and stability to Cameroon especially in the South West Region of the country affected by the socio-political crisis.
Talking to reporters after the audience, the Japanese diplomat said he had very fruitful discussions with the Prime Minister. "We had an excellent discussion on the bilateral relations between Cameroon and Japan notably on the project in the South West Region. Japan attaches great importance in its cooperation with Cameroon and I do hope that our relationship will be developed further throughout this year 2021," he stated. Concerning the project for the South West Region, it consists supporting the rehabilitation of health centres, water points and construction of two schools within the framework of the recovery plan for the region with the United Nations Development Programme (UNDP) as implementing partner. Ambassador Tsutomu Osawa said a signing ceremony will be organised in the near future and details of the different projects well elaborated. "I think the security of the South West Region is very important for the development of this country and we will support the stability of this region for sustainable development," he added.
At TICAD 7 in Japan in 2019, former Prime Minister Shinzo Abe announced the "New Approach for Peace and Stability in Africa (NAPSA), whose two princi...
Same category