Curbing Illicit Small Arms : PM Dion Ngute Officiates Burning In Buea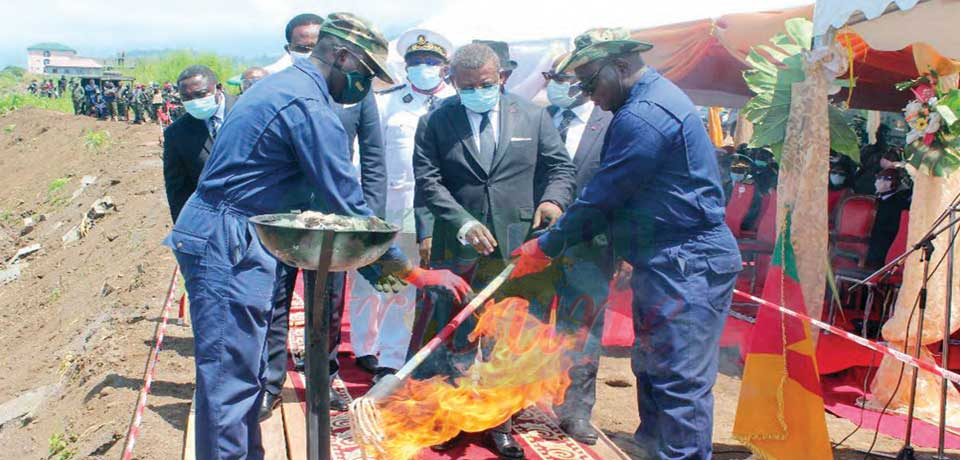 The 19 May, 2021 ceremony at the Buea-Bwitingi neighbourhood was an intensified declaration of continuous checks on the flow of unauthorized arms.
"The President of the Republic has instructed me to come here in Buea, capital of the South West Region, to preside over this ceremony of the project, "silence the guns". It is the African Union Project which has the backing of the Security Council of the United Nations. And we are here in the presence of the Diplomatic Corps and various defence and security officials. The President of the Republic has strengthened the regulatory disposition concerning small arms and light weapons in our country. We do not want to see them circulate because they are the main cause of lack of peace in our country. We have to ensure that the entire population of Cameroon can denounce people who are keeping unauthorized weapons. This, in effect, demonstrates the Head of State's desire for peace." In these words, Cameroon's Prime Minister, Chief Dr. Joseph Dion Ngute, ended his two-day sojourn in the South West Region after presiding over a symbolic burning of illicit weapons last 19 May, 2021, at Buea-Bwitingi.
Diplomats, the military, the Gendarmerie, the Police and top administrative officials led by South West Governor Bernard Okalia Bilai, were on hand to witness the event. The German Ambassador to Cameroon, Dr. Corinna Fricke, and the African Union representative took the rostrum to state the necessity to collect and destroy illicit arms and munitions for their anti-peace and conflict-fueling effects. At the ceremonial site prepared at the Buea-Bwitingi area, the mounting flames of burning small arms indicated the strong will of Cameroon Government to track, control and seize illicit weapons in circulation that are causing the death of defenceless civilians.
Chief Dr. Joseph Dion Ngute voiced the figure of 40 million illicit weapons circulating on the African continent as opposed to only 11 million owned by States. Although no suppliers of the arms were mentioned in Buea, the German Ambassador to Cameroon, Dr. Corinna Fricke underscored the figure of 300,000 to half a million people killed each year in the world with illicit arms thereby destroying the dreams and community survival. Arms fuel deadly conflicts, hinder peace and prosperity and render the world a restive place. The Buea symbolic burning of unalloyed weapons equally came at a time when the South West ...
Same category