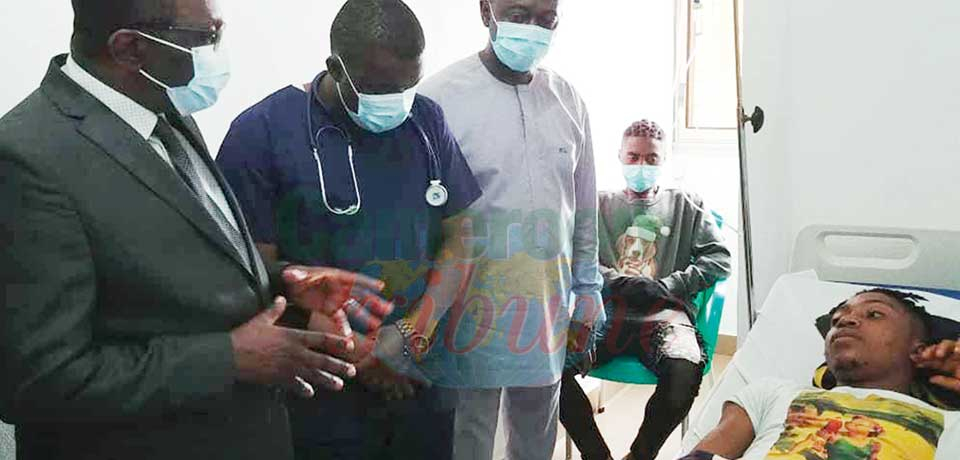 South West Governor yesterday convened a crisis meeting and prescribed preventive measures.
The University of Buea (UB) community has resumed their normal activities after the 10 November, 2021, blast that sent 13 students to hospital. All offices of the UB were functional as well as lectures were holding by midday yesterday when the South West Governor, Bernard Okalia Bilai, came visiting the scene of the blast incident at amphi 600. Before visiting the scene of the incident, the Governor had held a crisis meeting in his office in the presence of the Vice Chancellor of the University who painted a picture of the occurrence.
After the crisis meeting the Governor proceeded to visit the 13 UB students who were wounded in the detonation and are now lying at the Buea Regional Hospital receiving medical care. All affected cases were transferred from the private neighbouring clinic to the Stateown Regional Hospital Annex in Buea. All 13 cases were responding positively without any life threat as the Director of the Buea Regional Hospital, Dr. Mokake, told the Governor while taking him round to show the injured patients. To each of the injured students, the Governor encouraged and urged them to resume school immediately after treatment assuring them of State protection. The hospital sources said the State was taking care of their bills. After visiting the patients in hospital, the Governor moved to the scene of the incident at amphi-600 in the University. As a first measure, the meeting saw an urgent need to h...
Same category