11 février: le vivre-ensemble en symboles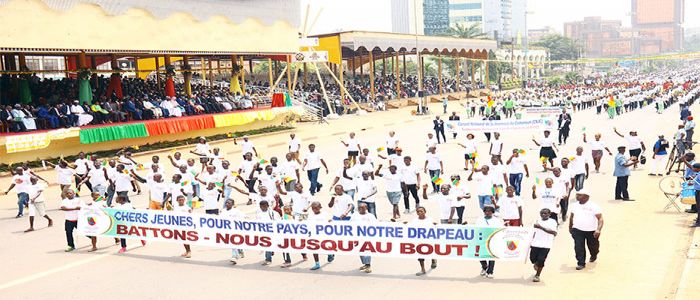 C'est le maître-mot des messages diffusés sur les banderoles et autres plaques.
Combien y avait-il de banderoles portant des messages patriotiques samedi au défilé du 11 février à Yaoundé ? On a noté que chaque arrondissement avait son message et ceci, par niveau d'enseignement. Cela se résumait en une demi-dizaine de centres d'intérêt : le patriotisme, la paix, le sport, le rejet de la violence et de l'extrémisme, le vivre-ensemble. L'enseignement de base a jeté son dévolu sur « le vivre-ensemble ». Pour le traduire, les tout- petits ont brandi plusieurs slogans, en français et en anglais pour interpeller les consciences. « Youth, Patriotism, solidarity for a Stable Cameroon », « Jeunes Camerounais, engageons-nous à la construction de la République exemplaire » ou encore « L'éducation est un droit universel et non-aliénable ».
D'autres symboles célébraient d'autres valeurs : la réussite, le dépassement de soi. Les jeunes ont montré que les Lions indomptables incarnaient ces valeurs. C'est pourquoi, sur les banderoles, ils étaient présentés comme modèles de solidarité et de fierté. Et pour les imiter, les jeunes des Ecoles normales proposent « la conscience professionnelle pour l'avènement d'une nation exemplaire ». Ils se sont montrés favorables à une « jeunesse Android, prête à relever le défi de l'économie numérique », à condition de ne pas tomber dans le piège des dérives : « Jeunesse camerounaise, faisons bon usage des réseaux sociaux », ont scandé les défilants. Il y a eu d'autres appels en faveur d'un Cameroun indivisible : « Cameroon is one and indivisible and so shall it remain ». Et si le découragement s'installait, les jeunes voudraient que chacun se rappelle le devoir patriotique qui invite à dire « Non à l'enrôlement, l'extrémisme et le terrorisme » et « Rester vigilant, car le sida est toujours présent parmi nous ».
Au-delà des banderoles, il y a eu des messages véhiculés par les chants : de véritables hymnes contre la division, la manipulation. Simplement des odes qui célèbrent la vaillance et le drapeau.
Same category