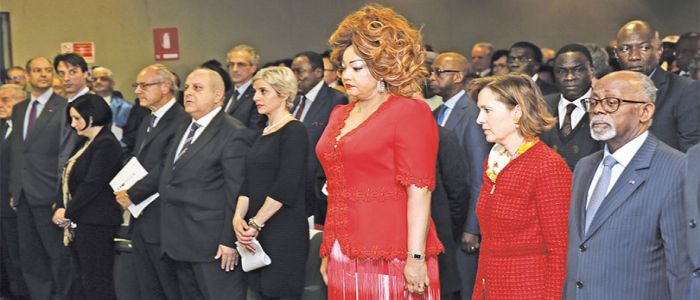 The Italian university and the Chantal Biya Research Centre are a major success story in the cooperation between Cameroon and the Republic of Italy.
The University of Rome II also known as University of Rome Tor Vergata (Italian: Università degli Studi di Roma Tor Vergata) is a public research university located in Rome, Italy. The university has become a household name in Cameroon, particularly in the health domain due to the role the Italian government has played in the inception and running of the Chantal Biya International Reference Centre for Research on HIV/AIDS Prevention and Management, CIRCB.
Thanks to the University of Tor Vergata and other partners, the CIRCB saw the light of day in February 2006 in the presence of some African First Ladies, Italian dignitaries and eminent scientific researchers from Italy such as Dr. Giulia Cappelli, who led the CIRCB scientific committee from 2007 to 2009, alongside Pr. Vittorio Colizzi whose involvement in the history of CIRCB cannot be overemphasized, particularly in the scientific board. It should also be recalled that the CIRCB has important partnership with the Tor Vergata University, the Higher Institute of Health and the National Institute of Infectious Diseases Spallanzani, all based in Rome.
CIRCB since its existence has received enormous financial and technical support from the Italian government not only to set up the four main laboratories in the centre, but also to carry out research works geared toward preventing HIV, providing care to those living with the virus as well as reinforcing research for an imminent vaccine. Today, information reveals that one of the prominent projects sponsored by the Italian government at CIRCB is the "Families First Africa" project. The "Families First Africa" project which is a UNESCO initiative, funded thanks to the Italian Government, and carried out together with the World Foundation for AIDS Research and Prevention (Paris), the Institute of Human Virology (Baltimore) and the University of Rome "Tor Vergata", assists HIV/AIDS programmes in Cameroon and other African countries. Most CIRCB scientific personnel were trained in Italy, particularly at the Tor Vergata University. The university's eminent researchers still play important roles in the running of the scientific committee at CIRCB.
It was a special honour for the First Lady, Mrs Chantal Biya, on March 22, 2017, in Rome to watch the current president of the Tor Vergata University, Giuseppe Novelli, a Professor in the Faculties of Medicine and Surgery, and his peers' award a Gold Medal to her husband, President Paul Biya for his enormous work in improving higher education studies in Cameroon.

Same category