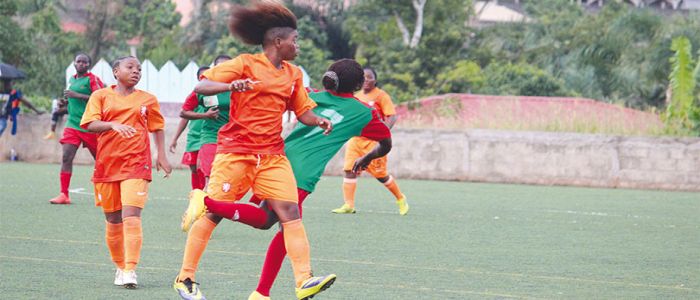 Matches counting for the second day of play took place in all the regions of the country last weekend
Newly promoted club, AWA Filles of Yaounde, are leading the classification table of the 2017 National First Division Feminine Football championship. They beat Vent du Nord 3-0 in Yaounde last weekend to maintain the lead. The match was the first of the day three matches of the ongoing National Feminine Division One championship.
The first two goals were scored at the 2nd and 16th minute by Eliane Aimé Bibout and Sandrine Ndema scored the third goal at the 13th minute. AWA Filles now record three victories, three matches and have the best scorer in the competition, Eliane Bibout, with seven goals to her credit. AWA Filles, a new comer in the national championship is waxing strong and is determined to win the title this season.
In the second game in Yaoundé, AWA Filles beat Renaissance Women of Guider 9-1. Three of the goals were scored by Eliane Aimée Bibout. Team captain, Genevieve Awona, scored two and the other team mates; Nzana and Aboute scored one goal each. The remaining two goals were own goals scored by the Renaissance players. AWA Filles is therefore leading with nine points. They are followed by Panthere Security Filles and Eclair Football Filles of Sa'a with six points each. Éclair Football Filles of Sa'a have however played three matches. Three teams from the Northern part of the country are already swimming in relegation waters.
At the bottom of the table, Renaissance Guider has zero point, AS Diamaré occupies the last but one position with zero point and Vent du Nord zero point. Meanwhile, day three matches of the National Feminine Football Champions will be played across the country today and tomorrow April 19, 2017. Matches counting for the fourth playing day have been billed for Saturday April 22, 2017.


Same category