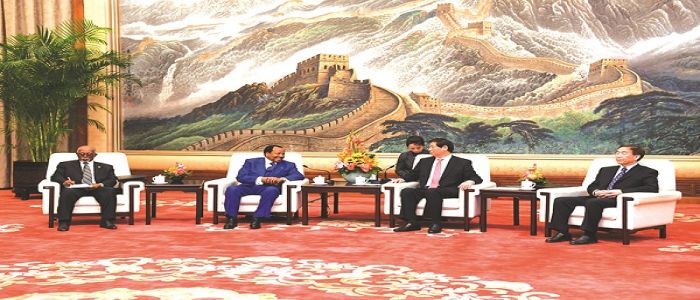 President Biya while in Beijing met with the country's National People's Congress' President as well as its Premier among others.
Day two of President Paul Biya's State visit to China was particularly marked by a series of visits and meetings with some top ranking dignitaries. The visit which gave him occasion to appreciate some of China's socio-economic structures including the International Network for Bamboo and Rattan [INBAR] and the famous telecom company, Huawei, was equally occasion for him to met with the President of the National People's Congress [NPC], China's parliament, and the country's Premier.
Even though the meetings took place behind closed doors, it was evident that they covered a wide range of issues fundamental to cementing cooperation between the two nations.
The President was accompanied in each of the meetings by all the members of his official delegation. In his words of welcome, Li Zhanshu, President of the National People's Congress, recalled that President Biya was the first foreign President to be received in China after the election of President Xi Jinping.
He interpreted that as the translation of the friendly and brotherly attachment between the two Presidents. In response, President Biya thanked Li Zhanshu for his warm welcome to him and his delegation and congratulated him for his election as President of the National People's Congress.
In the same vein, the meeting with China's Premier, Li Keqiang opened up other floodgates of enhancing cooperation between the two countries. The Premier in his welcome speech expressed the wish that the threeday visit should open up another page in China-Cameroon relations. China and Cameroon, he said, will always stand by each other.
The President reminded the Premier of the longstanding relation between the two nations which date back to almost half a century and which has intensified and will continue to deepen in diverse domains including culture, economy, politics and military.
The Vice President in charge of marketing at the MA 60 aircraft manufacturing company was also guest of honour in one of the audiences. He was received by the Special Adviser at the Presidency on behalf of the Head of State.
Prior to the series of meetings, the Presidential couple took off time to lay a wreath on the Monument to the People's Hero, a ten-storey obelisk erected as a national monument in honour of the martyrs of revolutionary struggle during the 19th and 20th centuries. The monument is located in the Southern part of the Tiananmen Square in Beijing and to the north of the Mausoleum of Mao Zedong.
Same category