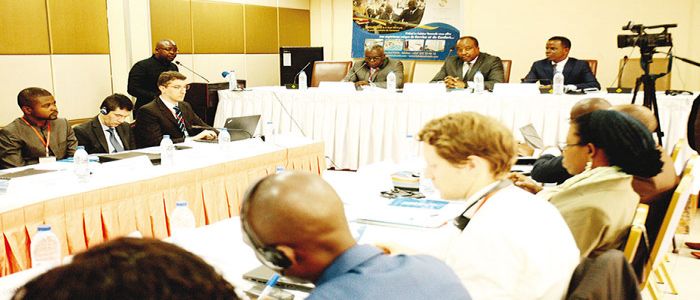 Stakeholders in policy making are currently undertaking courses in a seminar in Yaounde, designed to boost their skills in integrated planning and monitoring.
In a bid to improve budget performance, government has been engaged in discussions with the World Bank, International Monetary Fund and the French Development Agency, AFD since the beginning of this year.
Taking on the premise that officials representing the State of Cameroon on the table of such discussions may not be adequately armed with the tools necessary to reach conclusions that are entirely beneficial to the national economy, the UN Economic Commission for Africa (ECA) has organised a capacity building workshop in Yaounde in collaboration with the Ministry of Economy, Planning and Regional Development (MINEPAT).
The workshop was opened by Antonio Pedro, Director of the Sub-Regional Office for Central Africa of ECA and Isaac Tamba, Director General of Economy and Public Investment Programming in MINEPAT on May 22.
It focuses on policy modelling, integrated planning and monitoring tools.
Antonio Pedro says it is part of ECA's efforts to help countries in Central Africa to reconcile short term and long term objectives; transforming economies and bringing back macroeconomic stability which was destabilised by the fall in commodity prices a few years ago.
"We want countries to be able to draw up improved models that respond to the two objectives. We want them to be equipped with the necessary tools (models) before facing development partners. They should know their bargaining power and how they can negotiate," he said.
Dr Keita Mama, Head of the Data Centre of the ECA Sub Regional Office said countries in the region have great agricultural, forestry and mining potentials that facilitate economic diversification. She said policies in these countries should encourage transformation of natural resources and discourage exportation of resources in their raw forms.
"Transformation fetches more money for the economy, creates jobs and propels development. We want countries to have sophisticated portfolio of products for exportations and we want them to increase local production. Chocolate is more expensive than cocoa," she opined.
According to Isaac Tamba of MINEPAT, the workshop which he said is being attended by some of his staff involved in dialogue with development partners came at the appointed time. He noted 2017 national policies were different from the expectations of Bretton Woods institutions which is apparently the reason the World Bank published an economic report at the end of the year that was unpleasant to government.
He also said there is a need to design feasible policies that deepen the already existing diversity of the national economy; widen it and encourage economic patriotism- let Cameroonians consume products made in Cameroon.
Same category