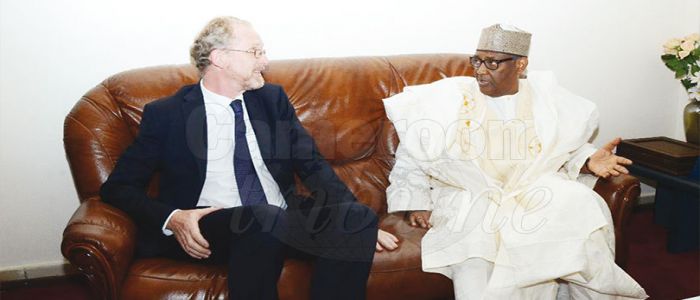 The Ambassador, Head of EU Delegation and the Chargé d'Affaires of the Chinese Embassy in Cameroon were accorded separate audiences by Minister Delegate Adoum Gargoum.
The Minister Delegate at the Ministry of External Relations in charge of Cooperation with the Islamic World, Adoum Gargoum, held two separate audiences with the Ambassador, Head of European Union Delegation in Cameroon and the Chargé d'Affaires of the Chinese Embassy. Hans-Peter Schadek of the EU was received on May 25, 2018 while Sun Wei of China was accorded an audience on May 24, 2018.
All discussions centred on enhancing diplomatic relations with Cameroon in the different areas of collaboration.
Speaking after the audience, Ambassador Hans-Peter Schadek said his discussions with the Minister Delegate focused on three principle points. He noted that besides reexamining cooperation ties between Cameroon and the EU, the situation of the Central African Republic was equally looked into. "Cameroon is host to several refugees from this country and therefore we talked about the management of these refugees," he stated.
He added that Post EU-ACP Accord negotiations were looked into ahead of an upcoming meeting. Hans-Peter Schadek said he used the opportunity to present his report following a visit he embarked to the Far North Region where France and the EU are funding certain developmental projects.
Sun Wei on his part, said they revisited cooperation ties between Cameroon and China which have been thus far positive. He added that he was equally a bearer of a sealed message from his President (Xi Jinping) to the President of Cameroon, a message which was being transmitted through the Ministry of External Relations.
Since 1971 when diplomatic ties were established, Cameroon and the People's Republic of China have cooperated on a wide range of sectors. In March 2018, President Paul Biya on the invitation of President Xi Jinping carried out a three day official visit to China.