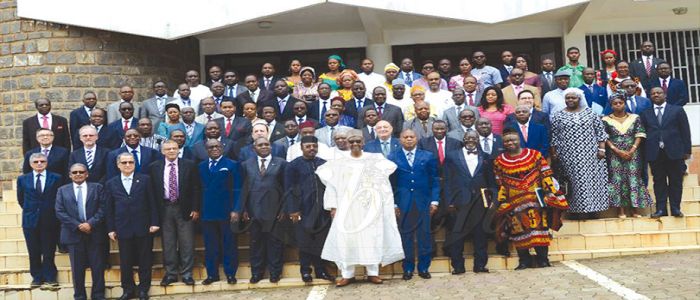 African diplomats accredited to Yaounde and other stakeholders on Friday May 25, 2018 exchanged views on denouncing fraud in the continent while consolidating institutional reforms.
May 25th of each year is commemorated as the African Day, a date which recalls the signing of the agreements establishing the Organisation of African Unity, today the African Union. This day, first adopted to commemorate the fight of the continent for the freedom, the emancipation, development and progress of its peoples now convey the idea of sustaining and promoting values of Pan Africanism.
Commemorative activities to mark the 55th edition of the African Day were launched at the Ministry of External Relations by the Minister Delegate at the Ministry of External Relations in charge of Cooperation with the Islamic World, Adoum Gargoum.
Celebrating under the theme, "Winning the Fight Against Corruption: A Sustainable Path To Africa's Transformation," the objective is to promote the fight against corruption and impunity on the continent as a way to achieve viable development.
While bemoaning the negative consequences of corruption on the African economy, Minister Adoum Gargoum said all efforts are aimed at development of the continent through the consolidation of institutional reforms. "One of the frameworks of consultation can be assessed through the decision taken by the Conference of the Heads of State and Government in January 2018 in Addis Ababa to proclaim 2018 African Year of the Fight Against Corruption.
The highlighting of this theme by the African Union reflects a reality common to a whole continent and pose the need to grasp the underlying issues," he stated. Adoum Gargoum categorically said the phenomenon of corruption is one of the real and throbbing problems in African societies and whose highly damaging consequences are becoming more disastrous in States.
Citing initiatives adopted in different African States to tackle corruption with focus in Cameroon, he mentioned the creation of institutions like the National Anti-Corruption Commission (CONAC), the Supreme State Audit and the Audit Bench of the Supreme Court amongst others. Going by him, working in synergy while prioritising national and regional interest over personal ambitions guarantees global development of the continent.

Same category