Women Football Cameroon Cup: Finalists Known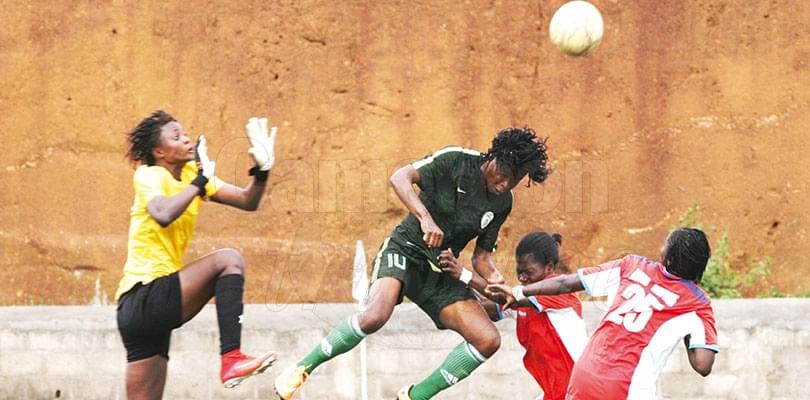 Louves Minproff and Éclair of Sa'a qualified for the final yesterday August 30, 2018.
Louves Minproff and Eclair of Sa'a Football Club will play the 2018 edition of the Women football Cameroon Cup final. Both teams picked their qualification tickets yesterday August 30, 2018 in the semi-finals matches played at the FECAFOOT Training Centre in Odza Yaounde.
Read also :
« C'est un combat de tous les instants »
The second match of the day opposed arch rivals, Louves Minproff and Amazones FAP. The hundreds of supporters that made the trip to Odza went home rather satisfied.
Read also :
Développement de la SOPECAM: le plan quinquennal au scanner
The encounter which was a remake of the final of 2017 Cup of Cameroon was a thrilling encounter that kept fans on their feet cheering their teams. The encounter began at 3:00 p.m. with both teams fully committed.
Read also :
Nécrologie: hommage au Pr. Joël Moulen
Meyong Meyene Charlene of Louves Minproff scored the curtain raiser barely three minutes after kick off. This spurred the Amazones FAP ladies who dominated the first part of the match with a good play style. At the 30th minute, Iven Mihamle equalised for Amazones FAP through penalty. Both teams separated at half time on a 1-1 score margin. On resumption the Amazones FAP ladies came up stronger, creating problems in the defence of Louves Minproff.
Read also :
Bravoure et professionnalisme: deux fonctionnaires de police à l'honneur
However, Louves Minproff squandered most of their scoring chances. The second goal for Louves Minproff was an own goal by Mambo of Amazones FAP at the 58th minute. At the 93rd minute, Doudou Ousmane equalised for the Armed Forces and Police team. At full time, the scoreboard read 2-2.
Read also :
Transport de marchandises: moins de tracas pour les camionneurs
After a goalless prolongation, Louves Minproff carried the day beating Amazones FAP 3-1 after penalty kick-out. In the first semi-final, Éclair of Sa'a thrashed AS Diamaré 3-0.
Read also :
Usine d'Ebolowa: 996 tracteurs déjà assemblés
Éclair's goals were scored by Alexandra Takounda (10th minute), Jeanne Ndongo (60th minute), and Tchadeu Guylaine (72nd minute). The final of the 2018 Women's Cup of Cameroon has been slated in the days ahead.
Read also :
« Tout le monde peut avoir accès à ces équipements »
Same category