First Lady's Social Work: CERAC Activities In The Spotlight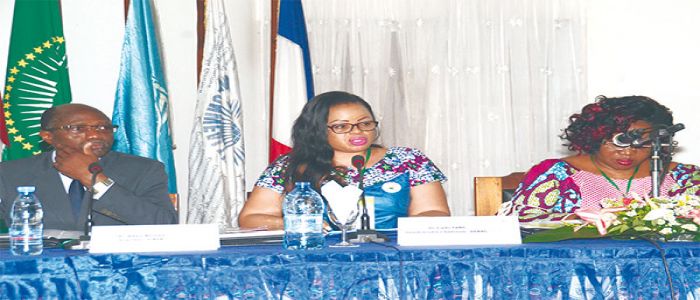 The missions of the Circle of Friends of Cameroon were presented yesterday by the association's General Coordinator in a colloquium at the University of Yaounde II.
Created in 1995 by Cameroon's First Lady, Mrs. Chantal Biya, the Circles of Friends of Cameroon (CERAC), a humanitarian, non-profit and apolitical association has stood the test of time. The association has and is still at the centre of social action in the country thereby accompanying the State in its social policy. For little over 20 years of its existence, the General Coordinator of CERAC, Dr. Linda Yang says CERAC's activities merit special attention evidenced in the present colloquium organised by the University of Yaounde II in Soa on the "Fundamental Rights and Politics of Solidarity in the Social Actions of the First Lady of Cameroon".
Dr. Mrs Yang was speaking yesterday at the Soa campus, during part-two of the colloquium wherein she presented the actions and missions of CERAC. The objectives of CERAC as presented by its General Coordinator, amongst which are; humanitarian assistance to vulnerable populations, facilitating access to health care, promotion of inclusive education, fight against poverty and human suffering amongst others. The actions of the First Lady she said fall in line with Article 25 of the Universal Declaration of Human Rights. Mrs Chantal Biya's humanitarian actions, she added are not only recognised nationally but also by the international community as seen by her designation as UNESCO's Goodwill Ambassador amongst others.
The General Coordinator, in her presentation, curved out the different sectors of intervention of the First Lady notably, health, education, economic empowerment of girls and women and social actions such as assistance to victims of catastrophes such as the Nsam fire disaster amongst others. The association she pointed out, has constructed, renovated and equipped several schools and health centres in all parts of the country. CERAC's successes are realised thanks to contributions by members and support from partners. While saluting the initiators of the colloquium, Mrs Yang said CERAC activities are rich, intense and diverse just as the composition of members with diverse backgrounds.
Same category